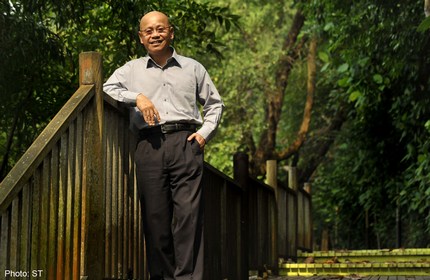 Christmas is the season of giving, and this year, Singaporeans have stepped up to the plate in their own special way.
From the Chope Food For The Needy campaign in April, which encouraged people to buy hawker meals for the underprivileged, to the SG Haze Rescue group, which gave out free N95 masks during the haze crisis here in June, many have extended a helping hand to those around them.
But while such initiatives are gaining a foothold here, Singaporeans still have a reputation for being as frosty as the North Pole.
This image has not been helped by the results of the World Giving Index 2013, a survey of 135 countries by the Britain-based Charities Aid Foundation. In the report released earlier this month, Singapore came in second last in the category which rated helping out strangers, after Cambodia. Only 24 per cent of Singaporeans surveyed said that they had helped a stranger in the past month, compared to top-ranked America, where more than three-quarters of those surveyed responded positively.
Dr William Wan, general secretary of the Singapore Kindness Movement, attributes the poor showing to Singaporeans' way of expressing themselves.
"I personally believe that Singaporeans are a helpful lot but because of cultural differences, we may not express help in the same way people do elsewhere," he says. "Some of us may be a little shy or hesitant, and this impedes our pro-activeness, but that's not to say we lack the desire to help."
He notes that more social initiatives have sprung up here over the past few years. Examples include Project V Movement, which encourages volunteerism through projects such as the Mobility Aid Movement, which aims to raise awareness of the difficulties faced by the less mobile, and Project I A.M, which appreciates groups that are often overlooked, such as cleaners, by giving them cards and small gifts such as packet drinks.
Dr Wan says: "Singaporeans, youth in particular, are becoming increasingly aware of the community around them, and are getting inspired to contribute and make a difference.
"Many of these social initiatives were also in response to some of the gaps that typically get overlooked, such as in encouraging volunteerism, simple acts of kindness or help for the less privileged."
Singaporeans are becoming more giving in other ways too.
The National Volunteer & Philanthropy Centre's Individual Giving Survey, which tracks giving over 12 months, found an increase in volunteerism in its last survey. Last year, 32 per cent of respondents said they had volunteered, compared to 23 per cent in 2010.
The centre's chief executive officer Laurence Lien says the increased numbers are due to greater awareness: "We know more are aware of the needs around them and helping, especially with the advent of social media and digital devices."
Dr Wan says: "I do think we are getting kinder, but it's important to remember that kindness is a journey, not a destination.
"There should never be a point where we believe ourselves kind enough such that we can afford to be a little less compassionate, considerate or helpful."
Life! looks at four individuals who have embodied the Christmas spirit of giving.
Source: The Straits Times