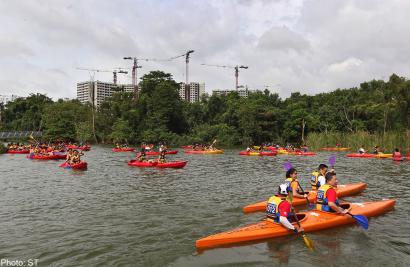 Held on Sunday, the 12th Singapore Canoe Marathon attracted over 100 participants of all ages and raised $40,000 for the para-canoeing community.
Organised by the People's Association (PA) Water-Venture and Singapore Canoe Federation, the marathon was held in the heartlands for more residents to participate in a good cause.
The event saw Acting Minister for Manpower Tan Chuan Jin, Minister of State for National Development Desmond Lee and Nominated Member of Parliament Nicholas Fang teaming up with an athlete each from Team Singapore Canoeing and staff from the PA to paddle a total of 40km for a good cause.
For every metre paddled by them, a group of donors pledged a dollar to fund the development of a para-canoeing programme.
This programme will enable athletes with physical disabilities to enjoy the sport by sponsoring the purchase of their equipment such as specially modified kayaks.
A potential beneficiary of the programme is Mr Tan Hun Boon, who has been canoeing for a year.
He said: "Canoeing is a demanding sport. Through paddling, we constantly challenge ourselves to improve every session. This is something people of all physical capabilities can identify with. We are really grateful to the Singapore Canoe Federation, PA Water-Venture and all donors for their continued support for our passion."
Try-out sessions were also held along the waterway for the community to learn the sport from Team Singapore athletes and bond with families and friends at the same time.
On top of the race and the public try-outs, a total of 600 participants also took part in the one day canoeing competition across four different categories.
"We are delighted to be able to contribute in this way to the development of the para-canoeing programme. This is a very good cause, as sports is a very powerful enabler. It is also very heartening to see the community actively contributing, participating and giving back," said Mr Desmond Lee, after paddling 10km along Punggol Waterway.
Source: AsiaOne