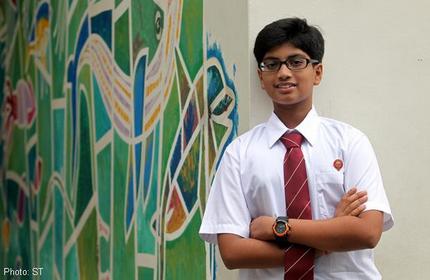 When Dinesh Ganesan (above) sacrificed his Saturdays to volunteer at the PAP Community Foundation (PCF) kindergarten, he certainly was not expecting anything in return.
However, upon receiving both the Edusave Scholarship Award and the Edusave Character Award, the 13-year-old realised how his actions have been recognised and this has made him even more motivated to continue volunteering in the future.
Dinesh is among the few award winners who were cited by Prime Minister Lee Hsien Loong at the Teck Ghee Edusave Merit Bursary award ceremony on Jan 12 as an example of how education is not just about learning what is in the textbooks, but also learning to be a good citizen. More than 1,000 students received the Edusave awards, which aim to not only recognise academic ability but also character and leadership.
Dinesh, who is now studying at Victoria School, was also a former senior prefect at Teck Ghee Primary School. He said: "I think what made me get this award was my change in character. From Primary 1 to 3, I was very quiet and reserved but when I became a prefect in Primary 4, I became a bit more outspoken and confident."
As a prefect, he felt an even greater sense of responsibility to help his fellow schoolmates as well. He noticed some of the students in his class could not understand what the teacher was teaching in class, so he would offer to stay back for a while after school and tutor them.
"I really liked volunteering. It made me feel like I wanted to be one of the best, most responsible students around," he said.
His passion for volunteering was further fuelled by his primary school, where the 20-30 student volunteers who would help out at the same kindergarten at which Dinesh volunteered his time, would be treated to movies and snacks as rewards for their efforts.
However, volunteering at the kindergarten had its trying moments. He explained that his role, which was to help the teachers look after the young students, was sometimes difficult because they would run around and not listen to him.
"I learnt that when dealing with the kindergarten children, you need to talk to them, explain to them why they have to do a certain activity. Sometimes you have no choice but to be stern, because they are so playful."
The volunteering experience has inculcated many qualities such as a sense of self-discipline and self-pride in him. "It has also taught me how to deal with different people in different situations," said Dinesh who plans to continue volunteering in the future.
Source: tabla!