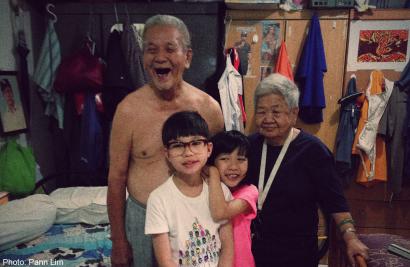 A family of four's random act of kindness to a pair of elderly strangers this Chinese New Year season has gone viral online.
On Saturday, advertising executive Pann Lim and his family were travelling on the hilly roads of Opera Estate when they saw two elderly people stuck on the pavement.
Mr Koh Yam Kun, 78, was having problems pushing his friend, Madam Tan Beng Poh, 72, who was seated in a wheelchair. Mr Koh and Madam Tan were on one of their regular walks, but this was the first time they were venturing through Opera Estate.
Mr Lim's wife, Claire, who was driving, immediately stopped the car and Mr Lim went out to help the elderly man.
But the wheelchair was in bad shape and the tyres gave way soon after. Mr Lim called a taxi to send the friends back to their home in Chai Chee.
The next day, Mr Lim's two children – Renn, 10, and Aira, seven – decided to pool their red-packet money to buy the elderly pair a new wheelchair.
They delivered it to the friends' one-room flat. The wheelchair cost approximately $350, wiping out most of what Renn and Aira had collected.
While at the pair's block, Mr Lim's family also distributed red packets to other residents, including a family with five children living in a single-room flat.
Mrs Lim wrote a post about the incident on the family's Facebook page on Monday. By press time, more than 5,400 people liked the post, which garnered nearly 700 shares and 300 comments praising the family's deed.
Mr Lim, an award-winning advertising veteran, said it was a natural instinct for his family to help the pair.
"When we saw them on the road… we did not even discuss what to do. It just felt right to stop the car and help them," he said, adding that his family has plans to visit the pair again in the near future to see how they are doing.
Mr Koh and Madam Tan live together in the flat, but are just friends. "We are brother and sister in Christ," said Mr Koh in Mandarin, when MyPaper interviewed him.
They had met in church a few years ago when Mr Koh, a divorcee, found out that Madam Tan, who is single, was wheelchair-bound and requires someone to take care of her.
Mr Koh used to live with his son-in-law but has since moved in with Madam Tan to tend to her illnesses. She suffers from high blood pressure, a weak heart and diabetes.
They survive on government handouts and a small allowance provided by Mr Koh's children. Madam Tan has no children.
Mr Koh added that he is "immensely grateful to Mr Lim and family" and that he is "touched that so many people are willing to help the needy".
Source: MyPaper