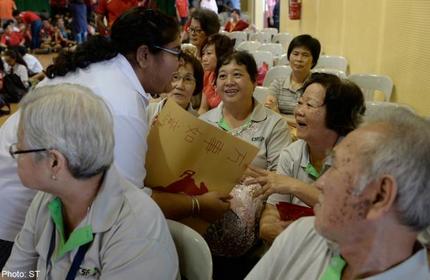 She is 76 years old, but Madam Chong Hee Heok still works as a cleaner at St Hilda's Secondary School, from where her three grandchildren graduated.
On Thursday, she was thanked by the Tampines school as part of its Chinese New Year celebration.
She was one of 18 contract cleaners and office support staff who received gifts of appreciation from students.
"Seeing young people on stage dancing and singing made me happy as they are so energetic," she said in Mandarin. "I like working here because the students greet me and are very friendly."
The school's principal, Mr Khoo Tse Horng, said he wanted students to learn to appreciate people in their midst. "They don't have to reach that far, there are people among us to be appreciated," he said.
The Secondary 4 and 5 classes were asked two weeks ago by their form teachers to think of what they could give them as a token of appreciation.
Secondary 5 students Annabelle Ang and Ho Yoke Kae, both 16, went to the supermarket after their form teacher and classmates each chipped in $3 for a gift. They bought an assortment of food, including oatmeal, chocolates and pineapple tarts.
"I felt very happy to give these people something back after all they have done for us," said Yoke Kae. "They are always there even after we leave school, to help us clean our tables, lock the classroom doors and make sure everything is neat and not broken."
Annabelle added: "At their age, they should be at home resting, but instead they are here cleaning our school."
This is the first time St Hilda's has organised such an effort for its staff. In 2011, it invited foreign workers who were renovating the school to join its celebrations.
Meanwhile, 20 Innova Primary pupils and 155 Innova Junior College (IJC) students spent over an hour yesterday giving out goodie bags to needy households in two rental blocks in Admiralty.
IJC student Sarah Lee, 17, said: "I saw how other people in our community were living.
"No matter who you are and what background you have, everyone should have a chance to be happy during Chinese New Year."
The distribution was part of an initiative organised by the North West Community Development Council.
Source: The Straits Times