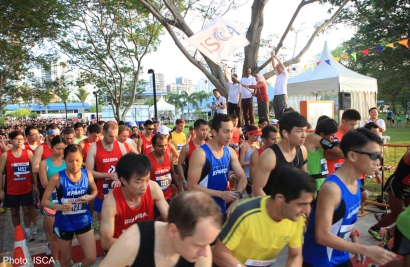 The Institute of Singapore Chartered Accountants (ISCA) raised $100,000 in funds at its inaugural run at the East Coast Park (Big Splash) on Saturday morning.
ISCA adopted the Singapore Association of the Visually Handicapped (SAVH) as its chosen charity this year, and the funds will go towards supporting the administrative and operational costs of SAVH's programmes.
Madam Halimah Yacob, Advisor to the National Council of Social Service and Speaker of Parliament, was the event's Guest-of-Honour and she flagged off the 10 km run this morning.
The run saw 1,175 runners from age 6 to 83, and included 18 visually challenged, 17 intellectually challenged and one physically challenged runners with their guides.
Besides the run, there was also a carnival which featured games, performances and activities by the visually handicapped aimed to educate and raise awareness among the public on the challenges they face.
Source: AsiaOne