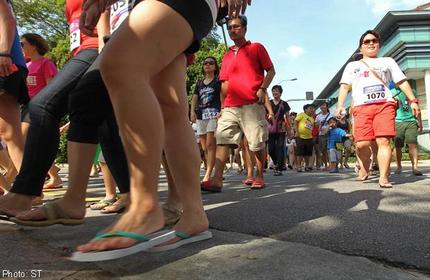 More than a thousand people came together last Saturday for the fourth edition of an annual "slipper race" to raise $35,000 for disadvantaged children here and overseas.
This year's 3.6km-long race, organised by local non-profit group Project Happy Feet, is a special tie-up with the ongoing 30th Total Defence Campaign. It involved 420 students from 22 schools – the biggest number since the event started – and 10 water-polo athletes from Team Singapore.
The race was held at Fort Canning Park for the first time to expose participants to war sites in the area, said Mr Terence Quek, 39, one of Project Happy Feet's founders.
While the race fell short of its targets to draw 2,500 people and raise $100,000, he and his founding partner, Ms Deborah Chew, are not deterred. He said: "We just want to raise awareness and hope to do our best."
Most of the money from last Saturday's race will fund the Financial Assistance Scheme, which helps 1,500 special education students here with school fees, uniforms and textbooks.
The remaining amount will help needy children in Cambodia.
Source: The Straits Times