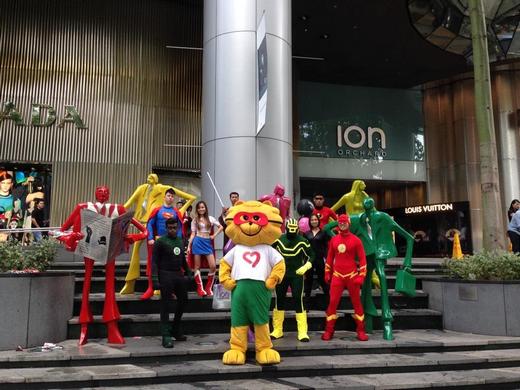 On 15 March 2014, Orchard Road was abuzz with colourful helium balloons, Superheroes, and the familiar sight of a national mascot – Singa the Lion.
This march organised by Celebrity Trainer, in line with Heroes Run 2014, demonstrated how everyone can be a hero to someone, and how a simple act of kindness can put a smile on the faces of others.
It was no surprise that the appearance of Singa the Lion drew the most enthusiastic response from the crowd. Suited up in his red mask and cape, Singa the Lion together with the Superheroes posed for photographs and handed out balloons to the public.
About Heroes Run 2014
Heroes Run 2014 will take place on 28 June 2014 at Marina Barrage and is designed to encourage family bonding, role/cos-playing and drive a social message of awakening to the needs of others in our daily lives.
Based on the setting of a city under siege, participants will journey through pages of a comic book and discover its twist and turns as they make decisions along the run. Upon completion of the multi-route race, they will be awarded with a hero's pin and a character card that reveals the kind of hero they are.
This event is organised by Celebrity Trainer, the organisers behind Race the Dead 2013 – Singapore's first zombie run, which was sold out in less than 14 hours.
For more information on Heroes Run 2014, please visit www.heroesrun.sg