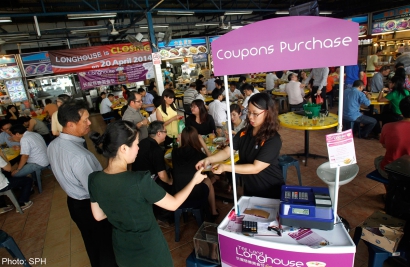 A charity event at the Long House Food Centre yesterday raised around $13,000 for The Straits Times School Pocket Money Fund (SPMF).
Listed developer Tee Land, which bought over the popular Upper Thomson centre this year, sold food coupons for $10 a piece for customers to buy food at a 20 per cent discount from 11am to 8pm.
Customers drawn by news of the centre's closing flocked there for prawn noodles, chicken rice and other dishes. At lunchtime yesterday, some 500 people showed up over the course of three hours.
Marketing consultant Ng Sok Lay, 25, made a trip there from her Shenton Way workplace with colleagues to have the prawn noodles. "It's quite a meaningful event to have a charity drive before they move out," she said.
The centre's last day of operations is this Sunday. Its hawker stalls will move to Balestier Market and a Jalan Besar coffee shop next month.
SPMF general manager Martina Wong said: "Everyone's just doing what they naturally do. The hawkers just need to cook, the patrons just need to eat.
"They eat at a discount and provide charity as well, and this coincides with the mission of the SPMF, which is to provide pocket money for meals to needy kids."
The fund, which was started in 2000, aims to help students from low-income families with meals at recess, bus fares and other school-related expenses.
Source: The Straits Times