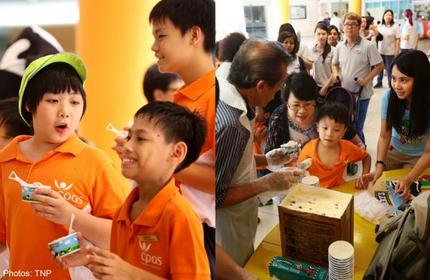 He gets to eat ice cream only about once a year and had never tasted Ben & Jerry's ice cream before.
But on Tuesday, Muhammed Firhad Mohammed Azhar had a free cup of it all to himself – a rare treat for the 12-year-old, who has cerebral palsy.
For the Ben & Jerry's Free Cone Day on Wheels, its ice cream truck visited 18 centres under the Children's Charities Association (CCA) as well as the National University of Singapore and Singapore Management University.
The ice cream chain's four outlets also took part in the Free Cone Day.
The first stop for the truck was Cerebral Palsy Alliance Singapore School in Pasir Ris, which Firhad attends.
Madam Diana Brampy, 49, the school's lead interventionist, said: "Not all our children can eat such ice cream because a lot of them come from needy homes and this is a luxury for them."
Enjoyed
About 700 beneficiaries and staff members at the school were among the 5,300 who enjoyed Ben & Jerry's ice cream at the 18 CCA centres.
Madam Brampy helped to coordinate the event and also scooped some ice cream. It was hard work, she said, but it was worth it.
"It's just the pleasure of seeing the children eat, with ice cream dripping down their chins, but they don't feel bothered because they're enjoying their scoop of ice cream," she said.
Cow mascots made an appearance at the venues and those present were encouraged to pose for photographs with the giant Ben & Jerry's frames and post them on social media.
The Ben & Jerry's Free Cone Day takes place every year on April 8, but this is the first year the schools were included.
Source: The New Paper