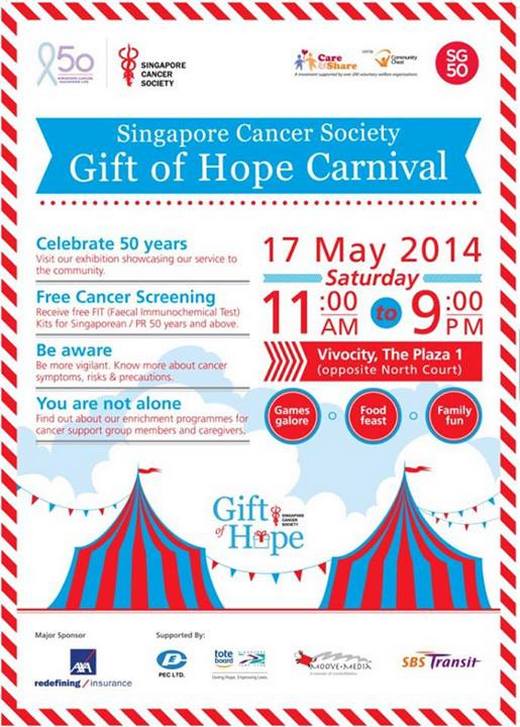 Gift of Hope Carnival 2014
VivoCity, The Plaza 1 (opposite North Court)
17 May 2014, Saturday, 11am to 9pm
Celebrate life together with the Singapore Cancer Society (SCS) as it turns 50 this year!
The Gift of Hope Carnival encourages the public to come together in celebration and give hope to those who are affected by cancer. No one needs to fight cancer alone.
Enjoy a plethora of activities specially designed to allow you to have fun while supporting a good cause! Look forward to games, food, crocheting and knitting activities, hourly lucky draws and more. For Singaporean / PR who are 50 years and above, free Faecal Immunochemical Test Kits will also be distributed. Through the carnival, you can also better understand about cancer and screening at the carnival. You can even pledge your help towards the cancer community. So gather your friends and family and join us for a day of fun-filled meaningful activities!
For more information and to purchase $20 carnival coupons in advance, please visit http://www.singaporecancersociety.org.sg/WhatWeDo/CommunityPartnerships/GiftofHopeCarnival.aspx