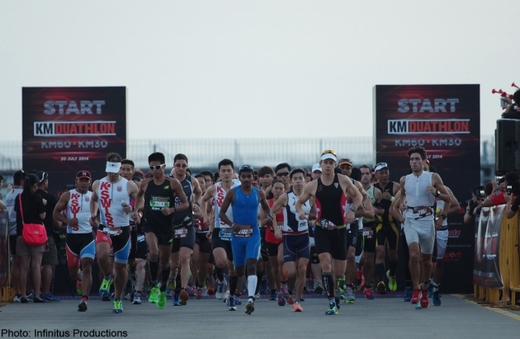 Nearly 400 participants rose to the challenge of completing the inaugural KM Duathlon at Changi Exhibition Centre on Sunday morning.
They had to cycle for 40km along Changi Coastal Drive between two 10km runs in the KM60 category, or half the distance for each activity in the KM30 category. The KM60 Relay saw participants team up with another for the race.
31-year-old Clifford Scott came in first in the KM60 (Male) category with a time of 2:28:53.
Local personalities Kelly Latimer, Claire Jedrek and Cheryl Tay took part in the KM60 and KM60 Relay categories to raise funds for Children-At-Risk Empowerment Association (CARE) Singapore.
They raised $2,150 through GiveAsia, and the amount was matched by Minister of State, Ministry of Trade and Industry and Mayor of North East District Teo Ser Luck, who took part in the KM60 Relay category.
Organiser Infinitus Productions contributed a further $2,500 to make it a total $6,800 raised for CARE.
Source: AsiaOne