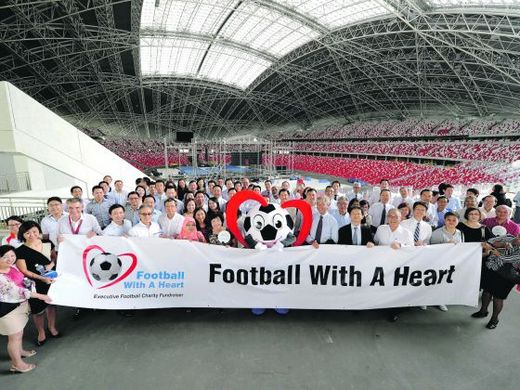 After raising S$567,000 last year for charity, the organisers of "Football with a Heart" (FWAH) are setting the bar higher with a target of S$650,000 this year.
To be held on Sept 20 at the 55,000-seater National Stadium — part of the new S$1.33 billion Sports Hub at Kallang — the charity event-cum-tournament wants to raise that amount to benefit 10 charities, one more than last year.
So far, 50 teams have signed up for FWAH, 10 more than for last year's event.
Organisers are still expecting to receive up to 10 more teams, with about 1,000 executives expected to battle it out in five-a-side futsal matches.
Speaking at the official launch of FWAH at the Sports Hub yesterday, Minister of State (Trade and Industry) and the North East District Mayor Teo Ser Luck reiterated the value that sports, particularly football, can play.
"The drive is a good initiative which links sports to businesses and is also a social cause," said Mr Teo, himself an avid footballer.
"It is always good to bond people together through sports and, more importantly, have a deeper social cause for the community."
The charity event, which is now into its third year, will feature two mini-competitions (celebrity and youths) in addition to the main tournament for corporate teams.
Teo will head the "Parliament Team", consisting of members from the ruling People's Action Party and the opposition, which will compete in the celebrity mini-tournament.
Among the Parliamentarians expected to compete are Minister for Manpower and newly-appointed Singapore National Olympic Council president Tan Chuan-Jin, and Aljunied GRC's Member of Parliament Pritam Singh, who is from the opposition Workers' Party.
President Tony Tan will also be present for FWAH's celebration dinner on Sept 24 at the National Museum of Singapore, where the beneficiaries will be presented with their respective donation cheques.
Beneficiaries of FWAH 2014:
Bo Tien Welfare Services Society, Care Community Services Society, CARE United, Children's Charities Association of Singapore, PEACE-Connect, President's Challenge 2014, Singapore Cancer Society, Society for the Physically Disabled, SportCares Foundation and Sunshine Welfare Action Mission Home.
Source: TODAY