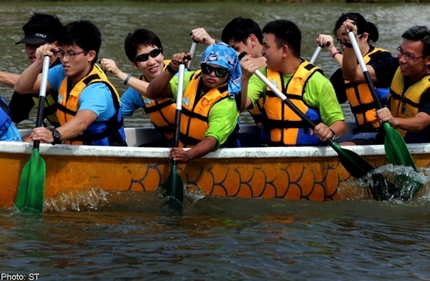 Second Minister for the Environment and Water Resources Grace Fu (third from left, in sunglasses) joined participants of Challenge Your Limits 2014 in dragon boating at Jurong Lake on Sunday.
The event, jointly organised by the People's Association Water-Venture and students from Nanyang Technological University's Welfare Services Club, is aimed at creating a more inclusive society for those with special needs, through water sports and related activities.
More than 300 people, including beneficiaries from four special needs groups – the Singapore Disability Sports Council, Special Olympics, Delta Senior School and Christian Outreach to the Handicapped – were at the event.
Source: The Straits Times