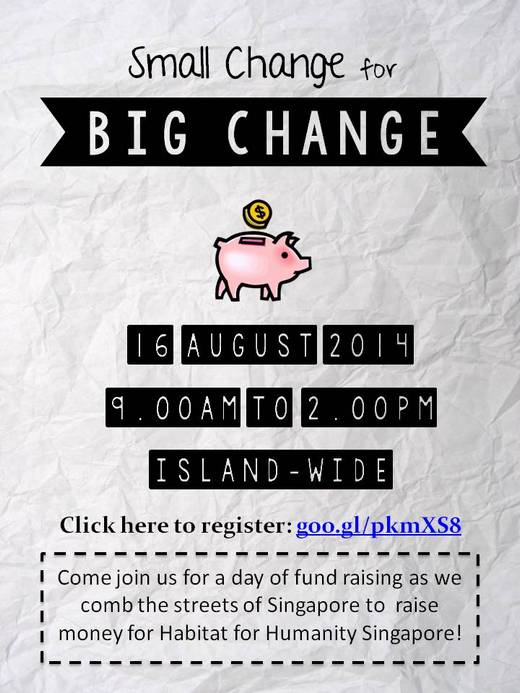 Event Details
Date: 16 August 2014, Sat
Time: 9.00am – 2.00pm
Venue: Island-wide (exact venues to be determined)
Attire: Simple polo/t-shirt (any past BYS shirt or white Habitat Volunteer shirt could work), comfortable jeans/short/pants (no sports pants), covered shoes OR
Half-uniform for schools
Volunteers will report to their various team leaders who will then brief groups individually on the actual day.
All proceeds will go directly back to Habitat for Humanity Singapore and help them fulfill their vision to see a world where everyone has a decent place to live in.
Corporates who are interested may also do an internal collection by adopting a donation can (or more) to encouraging their staff to empty out their spare change for a greater cause. The amount raised during the internal collection will be included in their total amount collected for the flag day on 16 August, Sat.
If you have queries, please feel free to contact Joyce at joyce@habitat.org.sg
Click the link here to register: goo.gl/pkmXS8
Please RSVP on the event page on Facebook as well. They will disseminate information from there including team allocation, reporting venue, areas of collection ,etc.