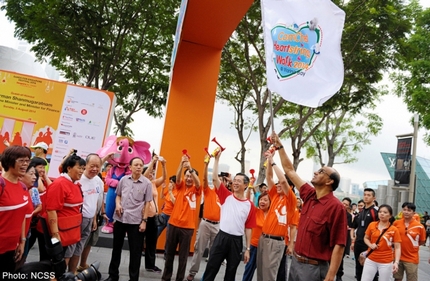 2014 is a special year with Community Chest leading the Care & Share Movement to rally organisations and individuals to show care and concern for the needy and mobilise resources for capability building of the social service sector to meet current and future needs. As part of the movement, ComChest Heartstrings Walk 2014 @ Marina Bay aims to garner greater participation and involvement from all in the community in line with the objectives of the movement.
"ComChest Heartstrings Walk 2014 @ Marina Bay is unique this year in that we have deliberately included elements to make this event an inclusive one where everyone can participate. In the charity bazaar formed by charities under the Care & Share Movement, the abilities and talents of our beneficiaries will be featured and celebrated through the showcase and sale of handcrafted gifts made by them.
"I am also pleased to share that Community Chest and the 209 charities under the movement have raised over $152 million from 1 December 2013 to 30 June 2014, through about 700 fund-raising and volunteerism events involving over 58,000 volunteers," said Mr Phillip Tan, Chairman of Community Chest and Chairman of the Care & Share Movement Steering Committee.
Funds donated to Community Chest and the participating charities will be matched by the government under the movement. In addition to raising funds, another key element of the movement is to encourage more individuals and corporations to give both their time and expertise towards a good cause. True to the spirit of the movement, Marina Bay Sands, the co-organiser for the ComChest Heartstrings Walk 2014, shared their social media knowledge generously with Community Chest to tap on the social media further and spread the message of caring and sharing.
Over 500 #careandshare moments submitted since its launch This gave Community Chest the confidence to start its own Twitter and Instagram accounts and launched its "#careandshare moments" social media campaign. It encourages participants of ComChest Heartstrings Walk 2014 and other fund-raising or volunteerism events to share pictures of their caring acts and pledges on Instagram, Twitter and Facebook. Over 500 heart-warming moments have been submitted in the past three months. Through this campaign, Community Chest hopes to reach out to the families and friends of participants and inspire more caring acts. With every post that has #careandshare, Marina Bay Sands has pledged a $1 donation (up to 1,000 posts).
"ComChest Heartstrings Walk has become the signature finale to our 3-day Sands for Singapore Festival and every year, we aim to create a bigger impact to better the lives of Singaporeans through our collaboration with Community Chest.
This year, we extended our support to the #careandshare moments, lending our social media expertise to heighten the awareness that everyone has the ability to do good. I am happy to share that together with the generous contribution from many individuals and organisations, we have achieved a new milestone, raising $1.5 million that will improve the lives of the frail and needy," said Mr George Tanasijevich, President and CEO for Marina Bay Sands.