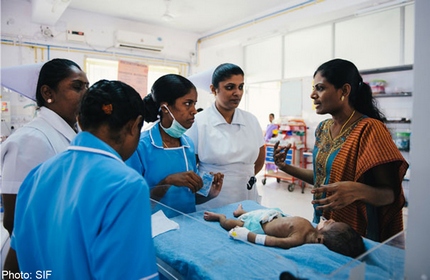 Teacher Vemala Valas Supamaniam had never been to India before, not even on a holiday. But she wanted to volunteer and teach overseas.
"After all these years of teaching, I wanted to try something different and I've always thought about how people in developing countries live," said Ms Supamaniam, who teaches English at ISS International School.
In 2011, she managed to both fulfil that wish and make her first visit to India – on a six-month in-field volunteering programme organised by the Singapore International Foundation (SIF).
One of the biggest non-profit organisations operating in Singapore, SIF sends volunteers to 10 countries, including India.
In addition to the SIF, tabla! also spoke to the Young Sikh Association and the Praise Evangelical Church – both involved in volunteer work in India.
Ms Supamaniam, 33, taught English to grade seven students and drama to college students at the Parikrma Humanity Foundation in Bangalore, Karnataka.
"I liked how you impact the people there just by being there, and how they changed me during my stay there," she said.
The trip also instilled in her the desire to keep volunteering. Since then, she has been on trips to Jaffna in Sri Lanka to train English teachers there.
On average, SIF organises 10 to 15 volunteer trips to India every year, with emphasis on locations closer to main cities like Chennai and Hyderabad and taking the comfort level of volunteers into consideration.
Said the director for International Volunteerism at SIF Margaret Thevarakom: "SIF has had a presence in India since 2005, and we've had programmes running all this time. We're rolling out new programmes all the time and all of them are new experiences."
Ms Thevarakom, who has been with SIF for 16 years, said: "The focus of the volunteer programmes is really about bringing communities together. You can't change the world on your own, right? So you bring communities together to share ideas, knowledge and resources so that together we can collaborate to make a positive change. The world needs change, and we think we are able to contribute to that."
SIF always works with local partners in the respective countries in order to provide them with assistance for their specific needs. There are three types of volunteering programmes conducted by SIF, in order to cater to the various skills, needs and interests of their volunteers.
In-field programme
One is the in-field programme, where the volunteer lives and works in overseas communities for between six months and two years.
They serve as teachers, healthcare workers, community and social workers, vocational trainers, business and IT advisers, or medical practitioners, to transfer their skills and strengthen the capabilities of their overseas counterparts.
Skills specialist is the second category. Volunteers who are specialists in their chosen career field, work in team-based, skills-transfer projects where they visit overseas partners regularly to build organisational and institutional capacity.
"These specialist teams seek to empower local partners so they can become catalysts for long-term positive change in their own communities," explained Ms Thevarakom.
The third category consists of direct service projects, where groups of generalist volunteers participate in projects to provide basic services to immediately enhance the quality of life of overseas communities. The general public who wish to participate in short volunteer programmes can opt for this.
"Direct service projects aim to yield tangible and immediately observable outcomes to overseas communities, as well as present learning opportunities and meaningful service experiences for volunteers," said Ms Thevarakom.
One volunteer who has been on a skills specialist programme is Ms Kulandaisamy Ronikal Infenda, a neo-natal ICU senior nurse at KK Women's and Children's Hospital.
The Singapore permanent resident who came here from Madurai, Tamil Nadu, in 2001, volunteered to train the nurses at Chengalpattu Medical College in India. She was part of a team assigned to help reduce the infant mortality rate at the teaching hospital by educating staff on proper sanitation methods.
They visited the hospital once every six months over a period of two years, and spent three to five working days there each time.
Said Ms Ronikal: "Some nurses learn the techniques but don't want to practise them, so we had to educate them and keep insisting that they follow the techniques each time we went there.
"There were also very limited resources, as they do not use the latest technology like we do here. So we had to improvise a lot during the sessions. It was a learning experience."
SIF is careful about choosing the areas in which they can help. For example, as Ms Thevarakom explained, "agriculture is an area where we cannot do anything about".
Specific focus
Since that programme, the infant mortality rates at the Chengalpattu hospital has steadily reduced and, according to SIF, the hospital staff are still dutifully following the advice given to them by the professionals from Singapore.
While SIF offers a wide range of options for volunteering in India as well as in other countries, there are smaller organisations which have specific focus areas.
The Young Sikh Association (YSA), for example, organises volunteer trips to Punjab, with 13 successful expeditions conducted since its inception in August 2003.
The volunteer expedition lasts for about three weeks and the team stays in a village and works on the village school to enhance the educational offerings and experience at that school.
Speaking of the decision to focus on the Punjab region in India, YSA president Malminderjit Singh said: "Due to the cultural familiarity and the network of contacts many of us at YSA have owing to our diasporic roots, it was natural that we started our project from there.
"Over the years, we have also decided that we should also focus on a particular region and uplift the educational offerings there in a concentrated way, rather than sporadically all over the country," Mr Singh said.
"We believe that this will create a bigger impact as the benefits of each project will often have a spillover effect on neighbouring villages, which will raise the awareness of how and why more focus needs to be placed on the quality of schools in the region. This concentrated approach has helped create a strong Singapore imprint there."
Outreach platform
He added that since many non-Indians volunteer for these expeditions, the trips form an important outreach platform for them. He said: "It allows the participants to learn more about the culture, values and traditions of Sikhs and Punjabis. This, perhaps, is the only non-altruistic benefit that YSA accrues from these projects."
Secondary school teacher Sarabjeet Singh has been on three volunteering trips with YSA. Saying that he had always wanted to visit India, he joked that his initial motivation to join the YSA volunteer trips was because it was a cheap way to travel to India.
His trips to Punjab have also helped him to better understand and appreciate Punjabi culture, he said. "It was also interesting for me as a member of the project group to see other Singaporeans, Indian and non-Indian, travel and adapt to India during the trip," he added.
Apart from non-profit organisations like SIF and YSA, there are for-profit organisations like Volunteering Solutions that send people to India and other countries on volunteering programmes.
tabla! also learnt of a church in Sembawang that organises volunteering trips to India. Praise Evangelical Church (PEC) runs an orphanage in Kanyakumari, Tamil Nadu, and an education centre for children in a slum in Hyderabad.
PEC often conducts leadership training to help the churches in India, and it was during these trips that the volunteers came across the poor children in the slums in Hyderabad.
"The living conditions were terrible – no clean water, no electricity and no hygiene. Many of the kids work as rag pickers and do not go to school," said missions director P. Ramachandran.
So in 2007, they decided to work with a local church in Hyderabad to see if they could provide a tuition centre for the kids, encouraging them to go to school and also to teach them the importance of hygiene through health education.
The orphanage in Kanyakumari was a project that was initiated by a group of friends in Singapore.
Said Mr Ramachandran: "After months of discussion, PEC took up this project and we linked up with a local friend in Tamil Nadu. He is a pastor and together we set up the orphanage in 2011. Today it is called the Shadrach Home and there are 23 boys."
The home was built with the help of well-wishers from Singapore and the Lee Foundation which funds charitable activities and philanthropic work, said Mr Ramachandran.
Help the needy
Organising two or three trips to both locations every year, Mr Ramachandran hopes that the volunteers will "appreciate the life in Singapore and see the need out there, developing a heart to help the poor and needy and share their blessings".
Adjunct teacher, Ms Josephine Wong Yuet Kew, 65, started volunteering with PEC in March this year.
She teaches the children English, plays games with them, counsels them, prays with them, teaches them songs and sends them off to school in the mornings.
Said Ms Wong: "We want to show that there are Singaporeans who care about those in India who need help. We want to train the children to be more proficient in the English language, and to teach them to sing and express themselves. We want to help build up their character through counselling and moral education. We want the children to feel loved and be accepted."
Another volunteer with PEC who took on similar responsibilities is Ms Indra Perumal, 54. The childcare teacher has been volunteering with PEC since 2006, and started volunteering in India in 2011. She goes there four times a year on one-week programmes.
"While I'm there, I play the roles of mother, English teacher, friend, shepherd and discipline master to the 23 boys in the orphanage," said Ms Perumal.
"I always had a passion to help children but couldn't do so earlier due to family commitments, but now as my two children are all grown up, I have the time to spend with these boys," she added.
All three agreed that seeing the boys growing up, disciplined, happy, healthy and well mannered brings real joy to them.
Said Mr Ramachandran: "When we hear our boys are doing well in school and have achieved top positions in class, it brings tears to our eyes. It is a greater joy listening to the boys' testimonies on how our love has reshaped their lives and given them a new future.
They say it with tears. You must be there to hear it yourself."
Source: tabla!