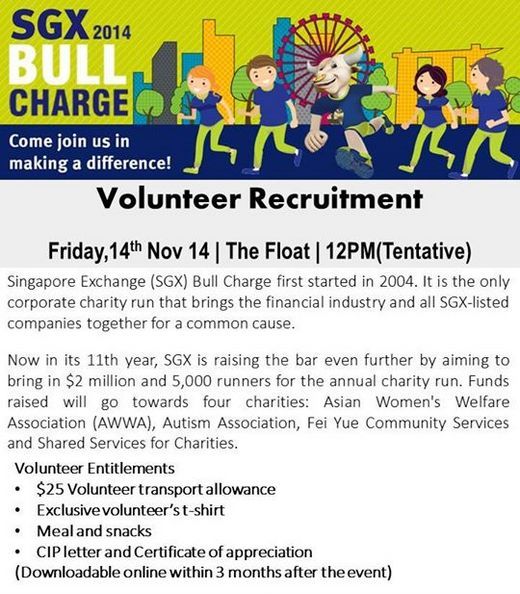 Singapore Exchange (SGX) Bull Charge first started in 2004. It is the only corporate charity run that brings the financial industry and all SGX-listed companies together for a common cause – to empower communities through financial literacy and promote sustainable societies.
The Bull Charge has an enviable track record over the past 10 years, raising more than $20 million for more than 50 different charities. No other corporate run in Singapore garners the same level of donations in a single event. More than 25,000 runners from the financial industry and SGX-listed companies have raced along the streets of the CBD in the spirit of Bull Charge.
Now in its 11th year, SGX is raising the bar even further by aiming to bring in $2 million and 5,000 runners for the annual charity run. Funds raised will go towards four charities: Asian Women's Welfare Association (AWWA), Autism Association, Fei Yue Community Services and Shared Services for Charities.
To celebrate the 11th year of Bull Charge, SGX is planning a series of exciting fund-raising activities which will culminate in the 5km run to be held on Friday, 14 November 2014.
Details of the event:-
Event Date: 14th November 2014
Reporting Time: 12pm (Tentative)
Expected Dismissal Time: 10pm (Tentative)
Reporting Venue: The Float@ Marina Bay
Volunteer Entitlement:
> $25 Event Allowance
> Exclusive Volunteers T-Shirt
> Meal and snacks
> CIP Letter and Certificate of Appreciation (Downloadable within 3 months after the event)
Recruitment Link: https://docs.google.com/forms/d/1beo7X3lLjr5PpNxSmXHqRDMPrawtfmcUa1bWncbimNQ/viewform?usp=send_form