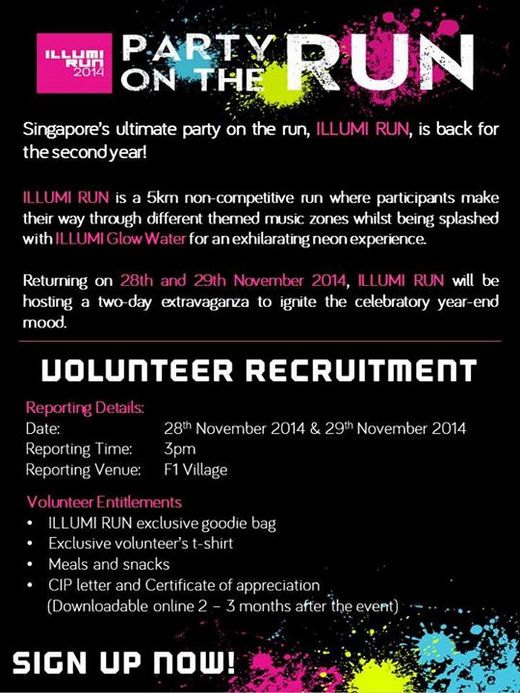 Singapore's ultimate party on the run, ILLUMI RUN, is back for the second year, and this year it promises to be bigger and better. Early Bird registration is open now with 18,000 entries available over two nights on 28th and 29th November.
Making its debut in Asia in December 2013, ILLUMI RUN is a 5km non-competitive run where participants make their way through different themed music zones whilst being splashed with ILLUMI Glow Water for an exhilarating neon experience. Last year's event saw 10,000 enthusiastic participants light up the night at the F1 Village for an unforgettable evening hosted by club DJs to a background of incredible pyrotechnic displays.
Returning on 28th and 29th November 2014, ILLUMI RUN will be hosting a two-day extravaganza to ignite the celebratory year-end mood. Due to the wonderful response last year, the neon fun run will cater for 18,000 people this year. The participant minimum age limit has also been lowered to 13 years old to include a younger generation of fun-lovers.
Details of the event:- (Volunteering slots are limited!)
Event Date: 28th November 2014 and 29th November 2014
Reporting Time: 3PM
Expected Dismissal Time: 1AM
Reporting Venue: F1 Village
Volunteer Entitlement:
> illumi Run Exclusive Goodie Bag
> Exclusive Volunteers T-Shirt
> Meal and snacks
> CIP Letter and Certificate of Appreciation (Downloadable within 3 months after the event)
Registration Link: http://goo.gl/Bkjj7b