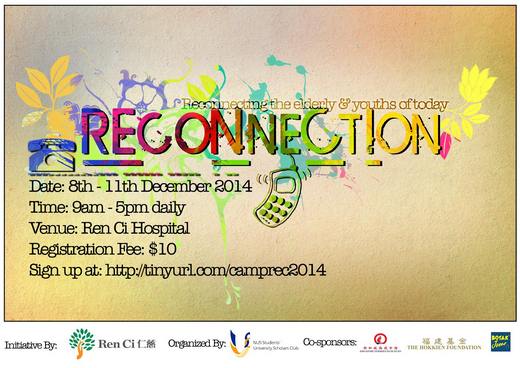 Camp Reconnection is a project initiative by Ren Ci Hospital, targeted at pre-university students.  NUS USP [National University of Singapore (University Scholars Programme)] is enlisted by Ren Ci Hospital to organise a 4-day camp with the objective of reconnecting the elderly and youths of today.
Aimed at youth participants between 16 and 18 years old, they hope to raise awareness of the problems that beleaguer the elderly sector of Singapore, particularly on the elderly who require long-term care. The 4-day camp shall comprise a combination of theoretical and practical activities, culminating in an outdoor field activity with the elderly. Through exposing the youths to the difficulties faced by the elderly in their daily lives, they hope to stimulate their thought and compassion, helping them to better empathise with the older generation. Participants can look forward to an enriching line-up of programmes, including dialect lessons, sharing sessions, amazing race, obstacle courses as well as an attachment at Ren Ci Nursing Home for participants to have a first-hand experience in interacting with the elderly residents.
Details of Camp Reconnection
Target Group           : Participants aged 16 to 18 years old
Dates    : 8th to 11th December 2014
Time    : 9am to 5pm (daily)
Venue : NUS University Town & Ren Ci Hospital
Registration Fees    : $10 (inclusive of daily lunch)
CIP hours will be awarded to participants for their time spent interacting with the elderly residents.
Registration ends on 9th November 2014. Interested students can sign up by registering online via: http://tinyurl.com/camprec2014.
Should you have any query or feedback, please do not hesitate to email campreconnection2014@gmail.com