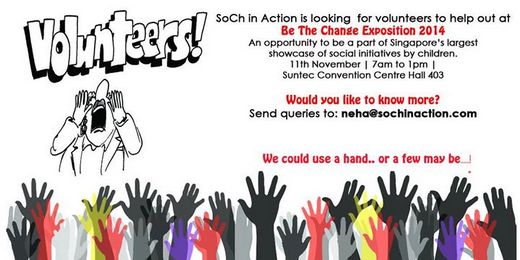 Be the Change Exposition 2014 will take place on 11th November 2014, from 7.00 am to 1.30 pm at Suntec Convention Centre Hall 403. The event is one of Singapore's Biggest showcase of social initiatives by children.
25 event volunteers are required to help with:
Responsibilities
– Event coordination
– Helping with logistics
– Working with various partners at the event
– Helping with Registration desk and Rsvp
Time commitment: On the day of the event from 7.30 am to 12.30pm
This is a fun event for children. There will be fun games and activities for the kids with music, dance and more. The volunteers will be briefed via email and on the day of the event in the morning.
Interested candidates please fill in the form by clicking on the link below or email neha@sochinaction.com/ call 81189106
https://docs.google.com/forms/d/1DWRhRbrWCwcflfFZyt4p9NVVfacvUnt5YPqp-skUzsg/viewform