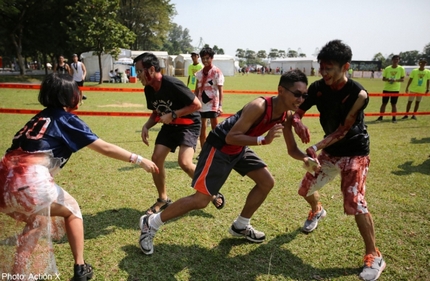 Over over 5,000 people, including wheel-chaired participants, took part in the second edition of a zombie run called Run For Your Lives (RFYL) Singapore on Saturday at the Grand Lawn, West Coast Park.
Timed to coincide with Halloween, the run had a special Walk-and-Wheel segment for Run For Your Lives' adopted charity – the Singapore Red Cross Home for the Disabled (RCHD).
14 wheel-chair RCHD residents, accompanied by volunteers and nurses, had an opportunity to navigate through a customised one-kilometre route against the zombies.
Laurence Goh, council member of the Singapore Red Cross, said: "It is great that the residents get to enjoy themselves and live their lives as normal as possible, beyond the home.
"This is an excellent collaboration and we are very grateful for this second opportunity to join RFYL. We hope for more companies to be as charity-minded like them," Mr. Goh said.
Source: AsiaOne