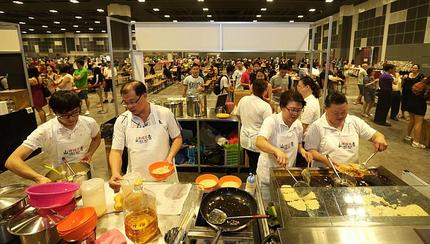 Fishball noodle chef Douglas Ng wakes up at 4am every day to make by hand fishballs from scratch at his Golden Mile Centre stall.
It was a home recipe the 23-year-old painstakingly learnt from his grandmother over four months, several years ago.
Yesterday, he closed his six-month-old stall for a day and joined more than 20 hawkers at a charity food fair to raise funds for the disadvantaged.
The one-day event at Suntec City Convention Centre, organised by Touch Community Services, brought together the old and new generation of hawkers, each handpicked by local food bloggers.
More than 2,800 people attended the fair. Proceeds from the food coupons sold will go towards supporting Touch's programmes.
Mr Ng said it was a chance for him to gain exposure as a young chef while giving back to society.
"I used to do weekly community service at an old folks' home but after I started my stall, I didn't have time."
The fair also featured household names such as Rong Cheng Bak Kut Teh, Tian Tian Chicken Rice and Chey Sua Carrot Cake. A herbal crocodile soup previously sold at Old Airport Road Food Centre made a comeback for the event.
Crocodile King's owner and chef, Mr Tony Tee, 50, closed the stall in August last year due to high rent. He now works at a crocodile farm in Lim Chu Kang.
"I've retired from hawker life. When I was approached to do something to benefit Touch, I said 'why not?'" he said. Five young crocodiles were harvested for the 11 pots of soup that went on sale yesterday.
This is the third year Touch is holding a food fair for charity and it hopes to raise $200,000.
"From the satay peddler along the streets of yesteryear to today's chicken rice stall at hawker centres, there is much to reminisce of Singapore's hawker heritage," said Touch's deputy executive director James Tan.
"We believe it is important to mark SG50 by celebrating the contributions of those in the culinary sector."
Source: The Straits Times