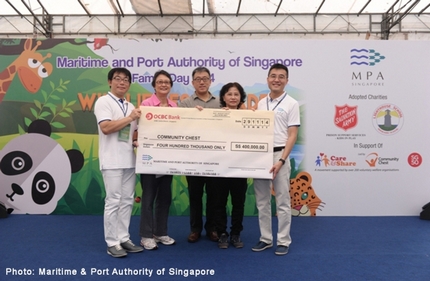 The Maritime and Port Authority of Singapore (MPA) and the maritime community raised $400,000 for charity through a golf event earlier this month.
The beneficiaries of the money raised are the Community Chest and two other charities that MPA has adopted for the first time. They are: The Salvation Army Prison Support Services' Kids in Play and Lighthouse School.
Of the amount raised, $100,000 will be designated to The Salvation Army Prision Support Services' Kids in Play outreach programme, and another $100,000 will be go to Lighthouse School.
The remaining $200,000 will go towards other social service programmes supported by Community Chest.
Mr Andrew Tan, Chief Executive of MPA, presented a cheque for $400,000 to Mr Chew Kwee San, Vice-chairman of Community Chest, at MPA's Family Day at the Singapore Zoo and River Safari on Saturday (Nov 29).
Source: AsiaOne