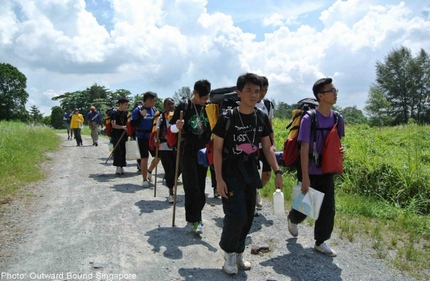 More than 300 Outward Bound Singapore (OBS) student participants from 40 different secondary schools have pledged their trekking expedition, over five weeks, on Pulau Ubin for a good cause – to raise bowls of rice for underprivileged families in Singapore's South-East district.
Held in support of an on-going two-month FairPrice Walk for Rice @ South East 2014 campaign organised by NTUC FairPrice Foundation Ltd and South East Community Development Council (SECDC), the 15-year-old student leaders who were sponsored by the Ministry of Education Physical Education and Sport Education Branch trekked an average distance of 20km with their heavy backpacks and camping gear.
As part of the annual campaign, each participant will earn one bowl each of white and brown rice from FairPrice for a family in need with every 200m covered. In all, more than 6,500km were accumulated during the OBS programme resulting in 65,000 bowls of rice that will benefit 1,040 needy families.
The students had urged each other to press on knowing their deeds will go to a good cause.
"Our team is very motivated knowing that the distance we walk makes a difference to the amount of staple food that the needy will receive. As such, we are really encouraging each other to press on," said expedition leader Jenson Chian from Bukit View Secondary School.
This year, FairPrice Walk For Rice @ South East 2014 hopes to accumulate 50,00km in exchange for 500,000 bowls of rice to benefit 7,000 needy families in the South East District.
Source: AsiaOne