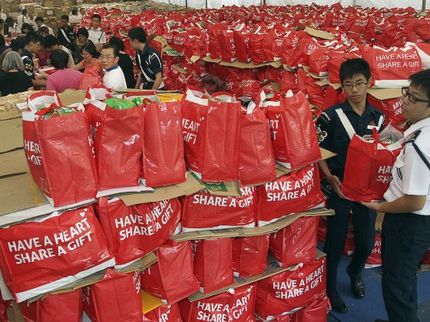 Singaporeans are giving more money to charity than ever despite a dip in the number of donors this year. However, fewer are volunteering their time, showed a survey released yesterday by the National Volunteer and Philanthropy Centre (NVPC).
The biennial Individual Giving Survey showed that Singaporeans donated S$1.25 billion in the past 12 months, a 14 per cent rise from the S$1.1 billion donated in 2012. The average amount donated this year was S$379, up from S$312 in 2012.
However, the proportion of donors fell to its lowest in a decade, with 83 per cent of those surveyed this year saying that they gave to charity. In 2012, 91 per cent of the more than 1,500 respondents said they gave to charity.
Volunteer numbers also took a dive, with the total number of hours volunteered in the past 12 months falling by 38 per cent to 66 million, from 91 million in 2012. Fewer than one in five people volunteered, down from one in three in 2012.
Average volunteer hours, however, rose to 93 hours per volunteer, compared with 72 hours in 2010.
The survey polled 1,828 people aged 15 and above on their giving behaviour in the past 12 months. Respondents were interviewed face-to-face between June and August this year.
Urging Singaporeans to go beyond giving their money to support the causes they believe in, NVPC chief executive Melissa Kwee said: "The non-profit sector needs not only our money, but also for us to share our skills and passion for their causes. Much more can be achieved when our minds, hearts and hands come together."
Also important is for organisations to create an inspiring and enabling environment for volunteers. Said NVPC director Hosea Lai: "Engaged volunteers can move mountains for the charities and causes they support, so monitoring their perceptions and experience is important for non-profits who want to build their community of givers."
The National Kidney Foundation puts in place up to 12 training sessions a year, on topics such as communication, listening skills and para-counselling, to nurture its volunteers. "We also ensure that we understand volunteers' skills and interests, so as to match them to their preferred roles," said Ms Ann Teow, assistant manager of the foundation's Volunteer Management Department.
Volunteer managers are also assigned to guide the new volunteers, Ms Teow added.
As at June this year, the foundation has nurtured a pool of 560 active volunteers, excluding schools and corporations. It had a much smaller pool of only 80 active volunteers in 2007.
To create opportunities for volunteers to grow, the Young Men's Christian Association (YMCA) gives its volunteers opportunities to lead community service programmes, while staff play a facilitating role.
Said Mr Lo Chee Wen, general secretary of YMCA of Singapore: "There are many areas for our volunteers to expand their roles and develop their skills through various structured and sustained community service programmes. Volunteers can progress to become core volunteers, volunteer leaders and even advance to be involved in strategic-level planning."
Source: TODAY