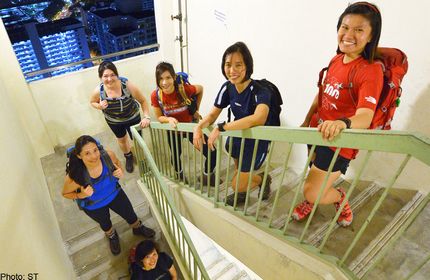 No mountain will stand in the way of six women who will be scaling Mount Kilimanjaro in Tanzania next week to raise funds for charity.
The eight-day expedition, organised by Ace Adventure Expeditions, aims to commemorate International Women's Day on March 8.
The group started training in September last year, and it has been an uphill battle.
The women, aged 27 to 44, go trekking every week and do 10 sets of 40-storey climbs twice a week, while carrying loads.
Through this expedition, the team also hopes to raise at least $10,000 for Project Pari, an initiative by the Zonta Club of Singapore, which provides young women from low-income families with financial assistance and enrichment activities.
As a student who had to work to support herself through school, Ace Adventure owner and expedition leader Joanne Soo, 44, said the cause is something close to her heart.
Ms Soo, who was part of Singapore's first women's team to scale Mount Everest in 2009, said: "If there is some financial help that can be given, I'm glad to be a part of it."
Source: The Straits Times