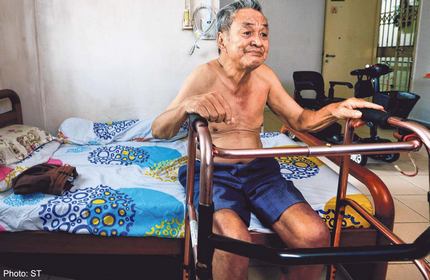 Retiree Wan Ah Kow, 69, finds it hard to clean his rental flat in Toa Payoh as he lives alone and has a leg injury from a fall more than a decade ago. He finds the windows especially hard to reach.
Last month, voluntary welfare organisation Habitat for Humanity Singapore visited his home with volunteers to spruce up his apartment. They painted the peeling walls, replaced his old mattress, gave him a standing fan and replaced his light bulbs with energy-saving ones. "But they need to come back and paint the ceilings too," he said in Mandarin.
Like Mr Wan, more elderly people who live alone can now get help with cleaning their homes, following a charity drive that ended on March 31 which raised $60,000 after two months.
The money will go to Habitat for Humanity's Project HomeWorks, to renovate one-room rental flats where elderly folk live, often alone and in squalor because they are too frail to clean their flats. The money pays for paint, cleaning materials, replacement furniture and fumigation services.
The money raised in the charity drive will benefit 70 senior citizens such as Mr Wan.
The founder of the drive, Ms Lim
Xiangyun, 25, an editor at a design website, had earlier set a target of $25,000 but raised more than this.
In the past two months, 50 individuals and young business owners had run fund-raising events or pledged part of their business proceeds to the cause, raising about $35,000. The public had also donated approximately $25,000.
Ms Lim started the project out of a soft spot for the elderly, saying she has always been close to her grandmother. She said she would consider a similar campaign next year and talk to Habitat for Humanity to see how the charity drive can be improved.
Expressing appreciation, Habitat for Humanity national director Yong Teck Meng said: "With their financial support, we will be able to reach out to even more homes of the elderly in need. We hope that their example would encourage even more people to step forward," he said.
Source: The Straits Times