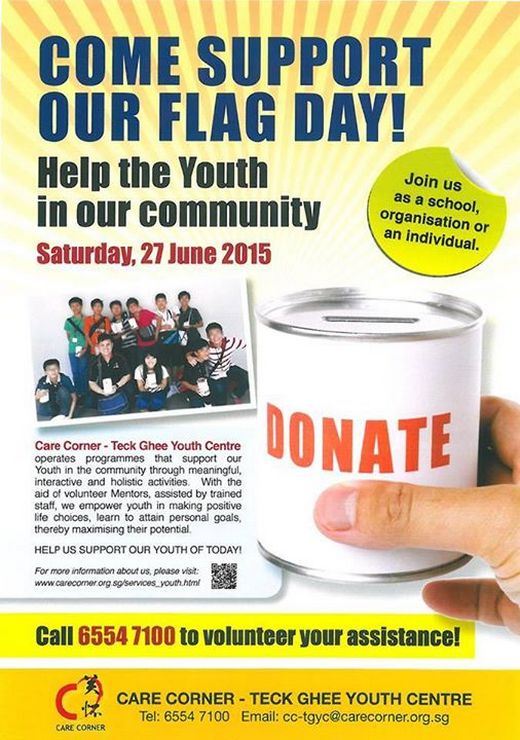 Care Corner – Teck Ghee Youth Centre has been around the Ang Mo Kio estate serving the children and youths since 2009! Coming this June, we would like to request for YOUR support for our Flag Day 2015!
CC-TGYC Flag Day is aimed at outreach to the underprivileged and at-risk youths. We are still some way off their targeted amount and is also in need of about 700 more volunteers to support us in this endeavor, so here's how you can help:
1) Make a one-off donation. Your kind donation will help us go a long way in making a difference to a youth's life. All donations are Tax Deductible. Donations can be made online at www.sggives.org/cctgyc
2i) Volunteer as Flag Sellers on Saturday, 27 June 2015. There are four shifts schedules for that day (7am-11am, 10am-2pm, 1pm-5pm, 3pm-7pm) and 7 locations to choose from (AMK, Orchard, Woodlands, Toa Payoh, Jurong Point, Queenstown, Tampines).
2ii) Be an Ambassador's dispatch
Support the event by transporting logistics to and fro collections sites (must have driving license and is confident managing a van; works in shifts)
2iii) Be a Collection site master
Contribute by manning the sites where tins are distributed and retrieved (either half or full day commitment)
To sign-up as a Flag Ambassador as an individual, please visit http://tiny.cc/cctgycflagday or for groups, please email to ericsng@carecorner.org.sg.
To sign-up for other roles, please email to lindalim@carecorner.org.sg.
Regardless how you are contributing, we sincerely appreciate these gestures which will go a long way in supporting us to make a greater impact in the Ang Mo Kio community. Contact us @ 6554 7100 or for more information on CC-TGYC's programs and services, please feel free to visit the following:
Website: http://www.carecorner.org.sg/tgyc.html
Facebook: https://www.facebook.com/carecornertgyc
Twitter: https://twitter.com/teckgheeyc
Instagram: https://instagram.com/carecornerteckgheeyouthcentre