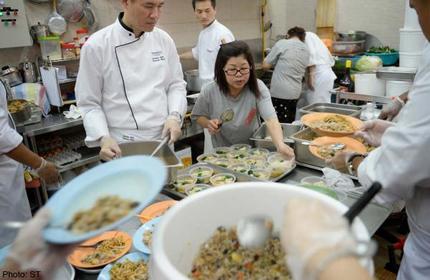 Tastier food and a wider range of meals are on the menu at four local charity homes as part of a new community outreach project launched yesterday.
Eat Well With Us is a partnership between the Pan Pacific Hotels Group and the National Council of Social Service (NCSS).
Pan Pacific hotel chefs will share healthy recipes and culinary techniques with resident cooks at AWWA Senior Community Home in Ang Mo Kio, Bright Hill Evergreen Home in Punggol, Melrose Home Children's Aid Society in Clementi Road, and Singapore Cheshire Home in Serangoon Way.
Recipes include steamed fish fillet with pumpkin puree and healthy garden vegetable soup. They take into account residents' health needs and the participating homes' costs.
Eight hotel chefs will rotate around the four homes in pairs and work with their cooking teams. At Singapore Cheshire Home, residents were treated to new recipes cooked by chefs including Mr Andy Oh of Pan Pacific Orchard.
Ms Ong Tui Fung, 58, a cook at Singapore Cheshire Home, said: "I have learnt to cook with different techniques and seasonings to make the dishes more flavourful."
Singapore Cheshire Home resident Loke Peng Mun, 43, said: "The food was delicious. I particularly enjoyed the eight treasures rice."
NCSS president Hsieh Fu Hua said: "We hope to make this nationwide."
Source: The Straits Times