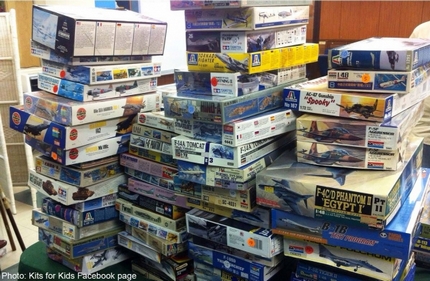 Do your part for underprivileged children with learning disabilities by buying a scale model kit at a discounted price this Sunday.
Scale models are miniature versions of vehicles, aircraft, vessels or popular action figures. Each scale model kit contains little parts that are then painstakingly assembled to create a tiny 3D replica.
Over 300 scale model kits will go on sale this Sunday as part of Kits for Kids 2015 – a fundraiser organised by social service organisation Students Care Service (SCS).
SCS is a registered charity and a member of the National Council of Social Service that provides a variety of services to children and youths who need support. Proceeds from the charity sale will go towards its Learning and Social Support Programmes (LSSP), which aids needy students with learning difficulties through tailored learning programmes, parent education and support.
Kits for Kids' charity sale last Saturday drew about 120 participants, raising over $46,000 from sales as well as donations. This Sunday's sale will see 1-1 deals on all kits, with kits being sold at discounts of 40 per cent or more off their original retail price. The first 20 buyers will also be entitled to purchase any 15 kits for a flat fee of $100.
The kits include Gundam models, planes, tanks, military vehicles and various figurines.
Kit for Kids Reload will take place this Sunday at SCS Hougang Centre (463 Hougang Ave 10, #01-964) between 11am to 5pm. For more information, visit http://www.facebook.com/thek4k
Source: AsiaOne