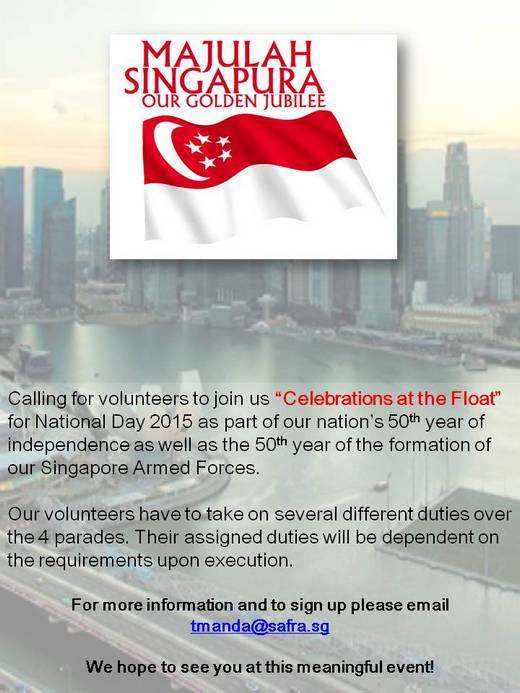 People's Association and SAFRA will be jointly organising the "Celebrations at the Float" event for National Day 2015 as part of our nation's 50th year of independence as well as the 50th year of the formation of our Singapore Armed Forces.
This group of volunteers will serve as part of the hospitality team during the parade. They are required to serve on 2 Combined Rehearsals (18th and 25th July) the Preview (1st August 2015) as well as the actual parade day (9th August 2015).
USHERS' DUTIES
Volunteers have to take on several different duties over the 4 parades. Their assigned duties will be dependent on the requirements upon execution.
General Ushering
•    Welcome ticketed spectators
•    Ushering ticketed spectators from entrance at the Float  to the seating gallery
•    Interacting with the audience and provide assistance whenever necessary
VIP Ushering
On top of performing similar duties as stated above, this selected group of volunteers will be assigned to usher VIPs during certain parades. They will be required to be familiar with VIPs.
Leaders
Amongst the volunteer ushers are group leaders who will take on more responsibilities on top of their ushering duties. Their additional duties include:
•    Lead and motivate the group during sessions
•    Handle all welfare and administrative matters relating to the group
•    Attend additional meetings called for by PA/SAFRA and/or respective Sector OIC
•    Plan and deploy volunteers in strategic locations together with respective Sector OIC
•    Reflect all feedback and issues (handled or unsolved) to respective Sector OIC
BENEFITS
Through this involvement, youth volunteers will:
•    Benefit from the series of service-learning training provided
•    Be developed in areas such as public speaking, leadership skills, people management and other interpersonal skills
•    Interact with people from diverse backgrounds
•    Form new friendship with fellow  volunteers
•    Contribute a minimum of 40 hours in community service
PRE-REQUISITES
Looking for youth volunteers who are:
1.    Aged 16 years and above (17 for Leaders)
2.    Able to work independently
3.    Willing to learn new skills and meet new people
4.    Able to commit for all the training sessions and the 4 shows (refer to schedule below)
TRAINING SCHEDULE
All volunteers are required to attend the training sessions and to assist in the Preview and Actual Day shows.
If you are interested and are able to commit, please contact tmanda@safra.sg to apply. Please note that there may be a selection process (including interview) for all interested volunteers. For volunteers who are interested to contribute as a volunteer photographer, please email cedwin@safra.sg for more information. Deadline for sign up is on 20 June 2015.