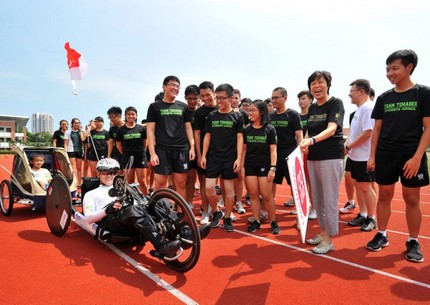 There was a time when Dr William Tan did not think he would see Singapore turn 50, but he did.
The 58-year-old Paralympics athlete was diagnosed in 2009 with end-stage leukaemia and given only nine to 12 months to live.
Instead, Dr Tan marked both Singapore's jubilee and his sixth year as a cancer survivor yesterday by beginning a feat of endurance – handcycling non-stop for 50 hours.
By handcycling on the Temasek Junior College (TJC) track from 3pm yesterday to 5pm tomorrow, he aims to raise $50,000 for needy children. The funds will go to The Straits Times School Pocket Money Fund, the Rotary Club of Bugis Junction's Children in Need Fund, and Care Corner Orphanage Foundation in Chiang Mai, Thailand.
Dr Tan said this is the longest continuous duration he has handcycled since his bone marrow transplant. "It's a tall order," he said.
Half the targeted amount had been raised when Dr Tan took to the track yesterday afternoon, paced by around 30 TJC students.
For the first few hours, he also towed pre-schoolers behind him in a child chariot. Fifty five-year-olds, most from pre-school Carpe Diem Young Hearts, took turns riding it.
The pre-school is donating $50 for each child who gets a ride.
Come rain or shine, Dr Tan will attempt the 50 hours without food or sleep, surviving solely on electrolyte drinks and taking only short toilet breaks. He expects to make about 30,000 circuits of the 400m track.
He started training in January last year, clocking an average of 160km a week in his handcycle.
Dr Tan will also be thinking of his mother, 92, who was hospitalised two weeks ago after choking on her dinner: "Fifty hours is a long time to reflect on things. I guess I'll be thinking of her a lot, and the tough times she had raising me along with six siblings, as well as of Singapore's journey – one year for every hour."
To donate, e-mail the event's organising chairman Paul Heng at paulhenght@gmail.com or go online at simplygiving.com/drwilliamtan
Source: The Straits Times