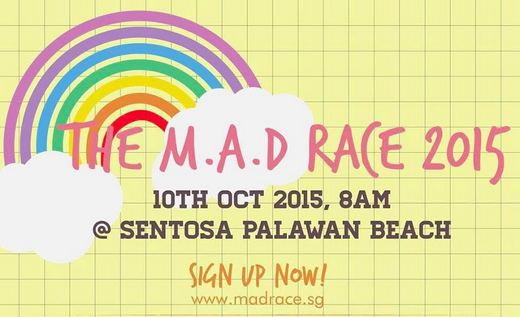 The M.A.D. Race is an inaugural run/walk event to raise awareness on depression, with the key objective to help people suffering from depression overcome and walk out of it.
Extensive research has shown that love, acceptance and support from family, friends and the community at large plays a very important role in how well and fast someone can recover from depression. What this means is that EVERYONE can Make A Difference!!!
The M.A.D. Race seeks to rally people in Singapore to come together to participate in a 5km run/2.5km walk to show their support and encouragement for people suffering from depression.
Every life is precious and its time to show that we understand, care, and value every person going through depression for who they are. What better way is there to show our support and willingness to run alongside them than to participate in a race against depression itself!
Make a Difference by being part of Singapore's first and only race against depression.
Volunteer for the M.A.D (Make A Difference) Race and spread the movement against depression!
Find out more here.