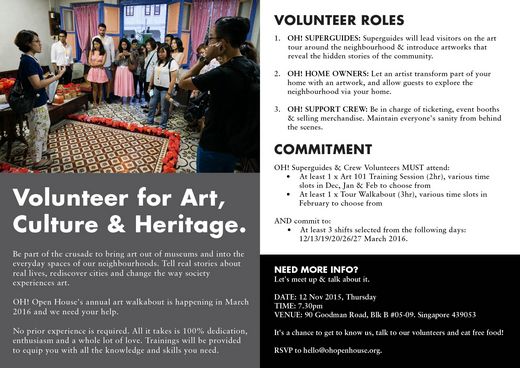 Be part of the crusade to bring art out of museums and into the everyday spaces of a neighbourhood. Tell real stories about real lives, rediscover cities and change the way society experiences art.
OH! Open House's annual art walkabout is happening in March 2016 and your help is needed.
No prior experience is required. All it takes is 100% dedication, enthusiasm and a whole lot of love. Trainings will be provided to equip you with all the knowledge and skills you need.
VOLUNTEER ROLES
OH! SUPERGUIDES: Superguides will lead visitors on the art tour around the neighbourhood & introduce artworks that reveal the hidden stories of the community.
OH! HOME OWNERS: Let an artist transform part of your home with an artwork, and allow guests to explore the neighbourhood via your home.
OH! SUPPORT CREW: Be in charge of ticketing, event booths & selling merchandise. Maintain everyone's sanity from behind the scenes.
COMMITMENT
OH! Superguides & Crew Volunteers MUST attend:
At least 1 x Art 101 Training Session (2hr), various time slots in Dec, Jan & Feb to choose from
At least 1 x Tour Walkabout (3hr), various time slots in February to choose from
AND commit to:
At least 3 shifts selected from the following days: 12/13/19/20/26/27 March 2016.
For more information: www.facebook.com/ohopenhouse
For queries, please contact: volunteer@ohopenhouse.org
Get involved & Sign up at: www.ohopenhouse.org/get-involved/#volunteer