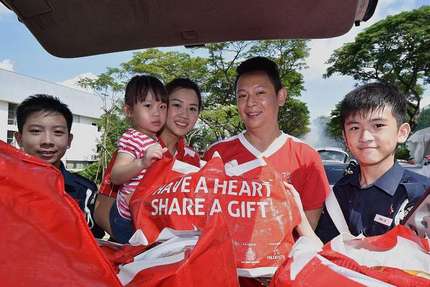 One of Singapore's biggest and oldest year-end charity projects is facing a dire shortage of volunteers for the festive season.
The Boys' Brigade Share-A-Gift (BBSG) project hopes to deliver 7,400 food hampers to the homes of beneficiaries this year – but there are not enough volunteer drivers to get them to the needy on time before Christmas.
While 182 drivers with cars have delivered hampers to close to 1,500 addresses, 318 more are needed in order to deliver the rest.
The annual Christmas charity project, now in its 28th year, collects and distributes donated food to disadvantaged individuals.
The public can also buy presents for beneficiaries who have listed specific items on their Christmas wish list, such as schoolbags and ovens.
Mr Deon Lim, 35, who is self-employed, has been volunteering with the BBSG project for the past six years. He will deliver hampers to the homes of the needy on Dec 20 with a group of 10 to 20 friends from 8am to late at night.
"It is very meaningful to be giving donations to the beneficiaries themselves directly," he said. "They told us how much they appreciated being able to have something for the festive season, especially when they usually can't afford to buy anything."
BBSG hopes to help 40,551 beneficiaries this year, including a record 5,445 elderly people.
Companies including Singapore Press Holdings (SPH) have come on board to help fulfil the Christmas wishes of beneficiaries.
Yesterday, 40 SPH employees organised a Christmas party for more than 200 beneficiaries and their caregivers from the Children-At-Risk Empowerment Association (Care Singapore).
Children and teenagers enjoyed games and a magic show and received presents under the BBSG project, which SPH is supporting for the 10th time. Three hundred wishes – including requests for backpacks, footballs and household items such as fans and mattresses – were granted. The items were worth about $20,000 in total.
Gifts will also be delivered to the Care Community Services Society and MightyKids, Families and Community programme under the Life Community Services Society.
For more information or to register as a volunteer, call the BBSG hotline (1800-227-4273) or visit the www.bbshare.sg website.
Source: The Straits Times