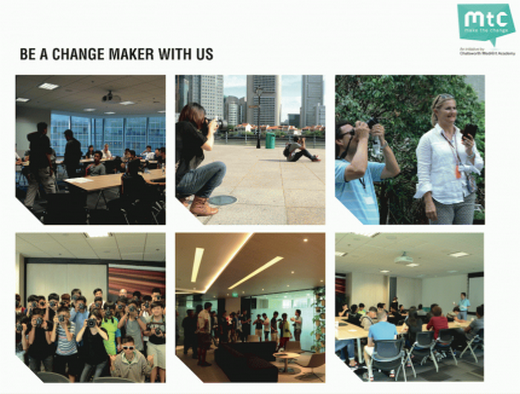 Make The Change (MTC) is the first social enterprise in Singapore to advocate design for social good.
The organisation engage creative communities to provide creative support to organizations in the social sector to help them fulfill their social missions.
To deepen its social impact and create an eco-system for design for good across all sectors, the organisation organises events, educational programmes and community activities that integrate various stakeholders such as government agencies, corporates, social organizations, schools and beneficiary groups.
MTC is looking for Change Makers that can help make a difference! and YOU can be one of them!
Change Makers are needed in the areas of:
– Creativity
– Event management and support
– Facilitators and Trainers
Join the evenr on 7 April 2016 and learn from Make The Change on how you can make a difference!
There are only 40 seats available. Get your tickets @ http://changemaker.peatix.com/
Event Details:
Date: 7 April 2016
Time: 6.30pm – 8.30pm
Venue: 30 Merchant Road #03-22
Riverside Point Singapore 058282