Posted by SG Volunteer Team on May 25th, 2016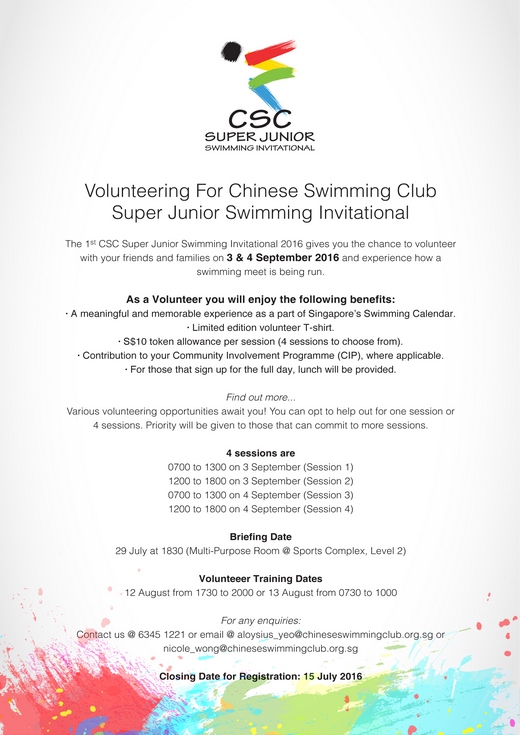 Do not miss out in volunteering as one this year!
Ever wonder how a swimming meet is being run, join us in volunteering for 1st CSC Super Junior Swimming Invitational 2016 this year.
The 1st CSC Super Junior Swimming Invitational 2016 gives you the chance to volunteer with your friends and families on the 3-4 September 2016 before registration closes on 15th July 2016.
As a Volunteer you will enjoy the following benefits:
•    A meaningful and memorable experience as a part of Singapore's Swimming Calendar
•    Limited edition volunteer T-shirt
•    S$10 token allowance per session (4 sessions to choose from)
•    Contribution to your Community Involvement Programme (CIP), where applicable.
•    For those that signed up for the full day, lunch will be provided.
Various volunteer opportunities await you! You can opt to help out for one session or 4 sessions. Priority will be given to those that can commit to more sessions.
•    4 sessions are
–    0700 to 1300 on 3rd Sep (Session 1)
–    1200 to 1800 on 3rd Sep (Session 2)
–    0700 to 1300 on 4th Sep (Session 3)
–    1200 to 1800 on 4th Sep (Session 4)
•     Volunteer Training Dates
(12th Aug from 1730 to 2000 or 13th Aug from 0730 to 1000)
For more enquiries:
Contact us @ aloysius_yeo@chineseswimmingclub.org.sg  or nicole_wong@chineseswimmingclub.org.sg or 6345 1221