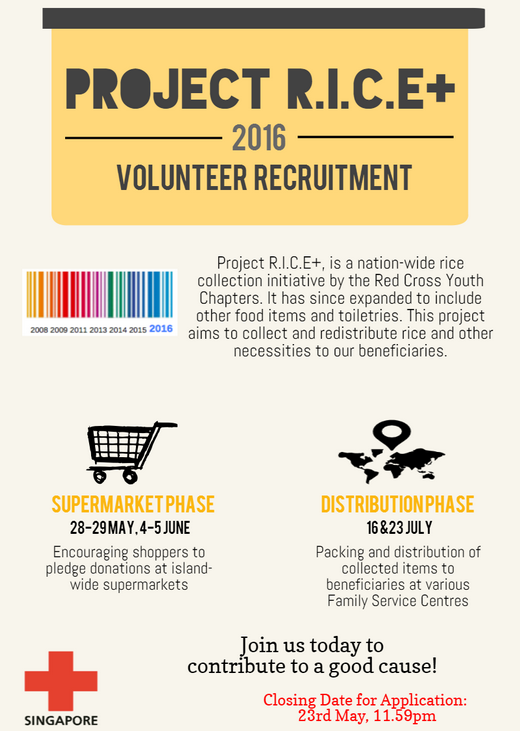 Project R.I.C.E+ is an annual nationwide initiative championed by young leaders as a Singapore Red Cross Youth Chapters' signature project.
It was started in 2008 and this year, it is into its 9th year!
Traditionally, Project R.I.C.E, as its name suggests, is a rice collection project which collects and re-distributes rice to beneficiaries.
The project has since expanded to include other food items and toiletries that come in sets.
This project consists of 3 phases – Supermarket, Distribution and Beneficiary engagement (For Tanjong Pagar Family Service Centre).
In 2015, the project collected and brought some 13,000 packages of food and household essentials, to more than 17,500 beneficiaries.
This year, the project is seeking to mobilise approximately 300 volunteers across various corporations and schools for the supermarket phase and packing/distribution phase.
The supermarket phase will be executed on 28th May, 29th May, 4th June and 5th June, 10am-3pm, at 28 Sheng Siong outlets around Singapore.
Volunteers will be stationed at different supermarket outlets to promote and encourage shoppers to purchase item bundles for the beneficiaries.
Volunteers will be able to choose their preferred location (North, South, East, West) and will be assigned to respective outlets depending on availability and the size of the outlet.
On the day of packing and distribution, on the 16th and 23th of July 10am-4pm, volunteers will meet at the respective Family Service Centres (FSCs) that they are assigned to to repack the goods collected from the supermarket phase.
Volunteers will then distribute it to the households who will be going down to the FSC to collect their items.
If you are interested to signup as a volunteer, please go to: http://goo.gl/forms/vP5h9WKI9D
Deadline: 23 May 2016, 11.59pm