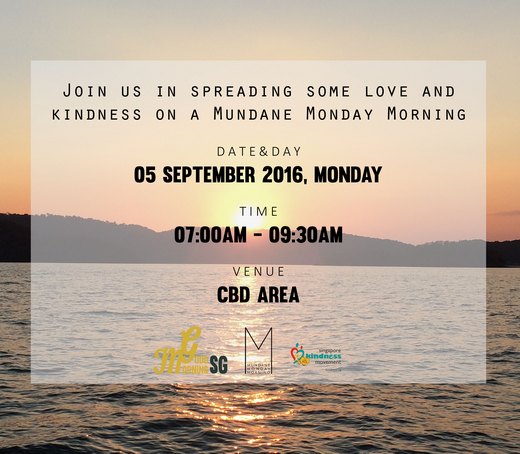 Good Morning SG is an ground-up initiative with the aim of brightening up someone's day, on a mundane Monday morning, as part of The Singapore Kindness Movement.
The event will be held on 5th September 2016, Monday, from 7AM to 9.30AM around the CBD area and volunteers are needed to help out for the event.
Your missions as a volunteer is to spread the love and kindness to the people in Singapore by distributing some lovely packages that the team have prepared!
If you are interested to volunteer, please sign up at http://goo.gl/forms/WHze0GNHR2EQevd93
More details and updates can be found on its facebook page at https://www.facebook.com/mundanemondaymorning/
If you have queries, please feel free to contact mundanemondaymorning@gmail.com