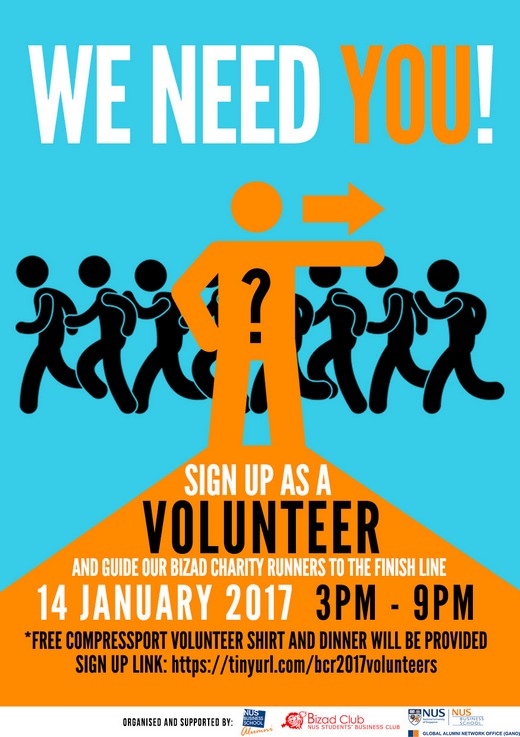 NUS Bizad Charity Run (BCR) is the flagship charity run event organised by the NUS Business School.
In 2017, BCR will be raising funds for the Autism Resource Centre and a bursary fund for financially needy NUS Business students.
The event hopes to raise awareness for the autism spectrum disorder and help ease the financial burden of deserving undergraduates.
Date: 14th January 2017
Time: 3pm to 9pm
Venue: National University of Singapore (NUS) Business School, Mochtar Riady Building, 15 Kent Ridge Road
The roles of volunteers would include route marshals, water point marshals and activity booth facilitators.
Each volunteer will be provided with an exclusive Compressport volunteer T-shirt and dinner.
In addition, the organiser will be able to endorse this event as a Community Involvement Programme (CIP).
If you are interested to volunteer, you may sign up at: http://tinyurl.com/bcr2017volunteers.
If you would like to make a donation directly to the Autism Resource Centre, you may do so at https://www.giving.sg/campaigns/bizad_charity_run.
For more information, please feel free to visit http://www.bizadcharityrun.com or email bizadcharityrun@gmail.com for any enquiries.