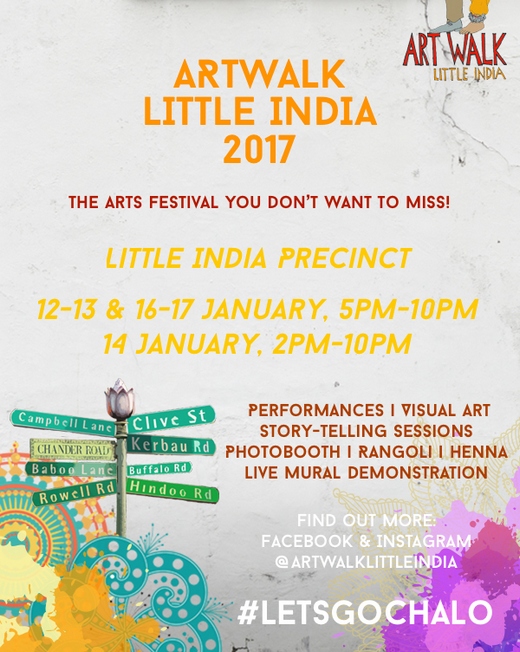 ARTWALK Little India is a multidisciplinary art festival set around Singapore's historic Little India precinct from 12-14, 16-17 January 2017 and is part of Singapore Art Week.
Returning with its 3rd Edition as a collaboration between LASALLE College of the Arts and Singapore Tourism Board with support of Little India Shopkeepers and Heritage Association, this year's theme Your Path To Remember, invites audiences to reflect on the area's heritage and culture while examining how the past influences the future through various art mediums and interactive programs.
Enthusiastic volunteers (16 and above) are needed to come onboard as Festival Ambassadors and Production Assistants during the festival.
Festival Ambassadors will be helping to ensure the smooth running of the festival at various stations whereas Production Assistants will be aiding in the production process.
Dates: 12, 13, 14, 16, 17 January 2017
Timing: 4PM – 11PM
*Note: It is NOT compulsory to volunteer for all the listed dates.
To sign up or for more enquiries, please contact artwalklittleindia@gmail.com!
(Kindly include your full name, age and resume when signing up.)
Find out more about the festival on Facebook and Instagram @artwalklittleindia!