Posted by SG Volunteer Team on January 1st, 2017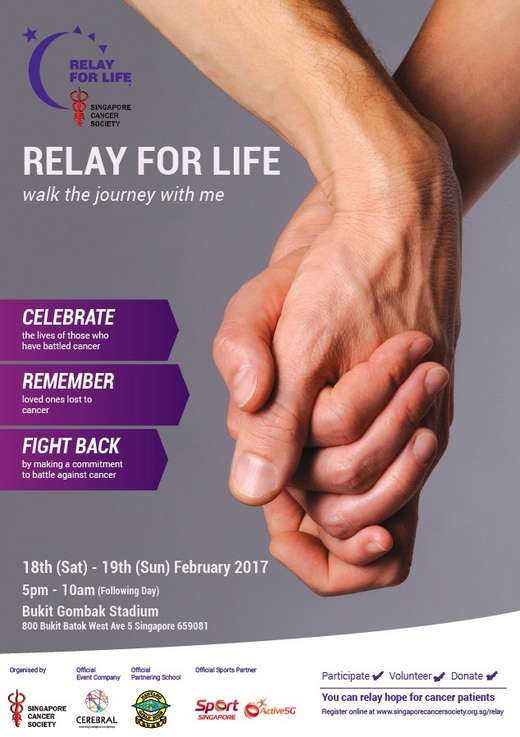 In 2017, Singapore Cancer Society (SCS) seek to step up efforts to raise greater awareness on cancer and develop platforms to better serve the Singapore community.
Come February 2017, in conjunction with World Cancer Day, SCS will be joining over 4 million participants in more than 25 countries across the globe to organise an international event – SCS Relay for Life.
Relay For Life' (RFL) will be held on 18-19 February 2017 at Bukit Gombak Stadium. A 17-hour event, RFL brings the community together to celebrate the lives of cancer survivors, remember those lost to the disease and fight back against a disease that has taken so much.
SCS seeks to spread the message that "No one fights cancer alone" and bring HOPE to those who are battling the fight against cancer.
The event targets a crowd of 9000 participants over three times slots.
There will also be other family activities and performances throughout the overnight event.
How Can You Be Involved?
1. Participate
Be part of the event ! Help spread the message that "NO ONE fights cancer alone" and "Bring HOPE to those who are battling the fight against cancer"
Invite your friends to participate.
2. Donate
Once your friends has registered, get them to spread the word so that others can support their efforts via the online donation platform (https://www.giving.sg/singapore-cancer-society/relay_for_life_2017)
3. Rally
Encourage and rally your friends along to join in this fight against cancer.
To find out more about RFL, please visit www.singaporecancersociety.org.sg/relay/
Participate today!