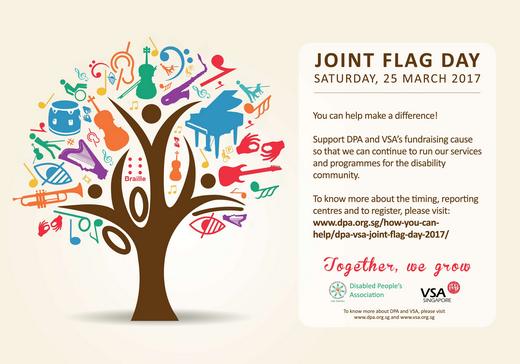 Disabled People's Association (DPA) and Very Special Arts (VSA) Singapore are holding its annual Flag Day on Saturday 25 March 2017.
Through the event, the organisations hope to achieve the following objectives:
• Raise awareness about the work of DPA & VSA and our outreach to support people with disabilities
• Promote disability awareness
• Inspire the spirit of empathy amongst the public and volunteers on the needs of people with disabilities
• Raise funds to cover the daily operations and programmes of the two organisations
By volunteering this flag day you will get a chance to use Project Tintin, which is an innovative software DPA developed to make flag day run smoother and save your valuable time by making registration and tin assignment on the day much quicker. It also makes returning the tin faster and easier. Sign up today to see for yourself how Project Tintin can make the flag day experience that much better. To watch a video about Project Tintin and see it in action, please click here.
All student volunteers will be awarded with CCA points/CIP hours as well as receive a certificate of appreciation for their contributions towards this fundraising event. IB candidates will also receive Social Service hours.
To register online as a Flag Seller, please click here