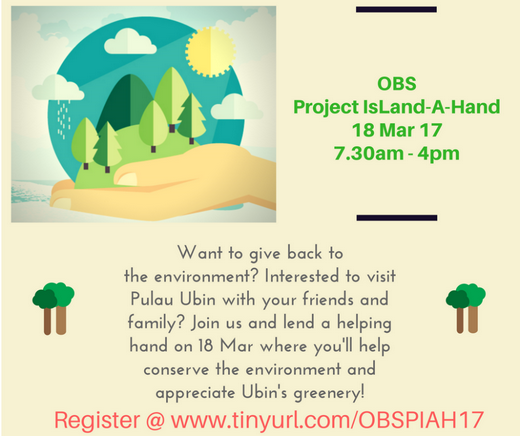 If you are a nature enthusiast who loves being outdoors and networking with like-minded youths, join Outward Bound Singapore at Project Island-A-Hand!
From discovering new trekking routes in Pulau Ubin to playing a part in reforestation efforts at Tanjong Tajam, participants will express their appreciation for the environment to serve as advocates for sustainability.
The event is jointly organised by OBS Leadership and Service Award recipients, and volunteers can look forward to:
– Planting the last batch of tree saplings in the Tanjong Tajam reforestation area, completing reforestation efforts that began in 2014
–  Trekking in Pulau Ubin
–  Networking with fellow nature enthusiasts
Lunch and refreshments will also be provided.
Event: Project IsLand-A-Hand
Date: Saturday, 18 March 2017
Time: 7.30am – 4.00pm
Minimum age: At least 13-years-old in 2017
Cost: Free
Reporting location:
Outward Bound Reception Centre
22 Punggol Road, Track 19
Singapore 828871
How to register: Register online at www.tinyurl.com/OBSPIAH17
For more information, please contact OBS_Programmes@nyc.gov.sg or visit https://obs.nyc.gov.sg/.