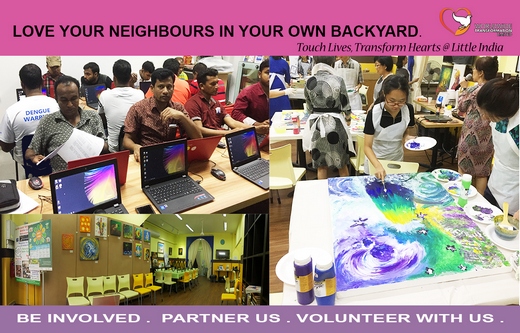 Worldwide Transformation Ltd (WTL) aspires to reach out to local communities in every nation so as to effect change in the lives and livelihoods of its people.
Hence, it has taken the initiative by beginning first with our local community here in Singapore.
Using a ministry base located at 'Little India', WTL reaches out to different nationalities by offering practical help or kind acts of service.
These beneficiaries, largely foreign workers from different nations, come from India, Nepal and Bangladesh.
This outreach work has also been extended across to families and the elderly in our neighbourhood, many of whom are Singaporeans.
Currently, volunteers are welcome to signup with the following programmes:
1) Free computer & english classes (for foreign workers) weekly program
Scope of volunteer duties:
English or Computer class instructors (Basic – Advanced)
Registration & general help before classes.
* Admin help  (prepare certificate of attendance for graduates)
* Call and text reminders for new students.
Date: Rotating Sundays or * During weekdays, office hours.
Time: 4.30pm- 7.30pm
Venue of event:  Little India shophouse
Purpose of the event: Provide practical help to the foreign workers.
2) For family & their children's activities, social gatherings & resident outreach work
Scope of volunteer duties:
co-ordinate events
general helpers
befrienders
Date:  Ad-hoc events/ TBA
Time:  Saturdays
Venue:  Little India shophouse
Purpose of events:  To provide a gathering platform for social, recreational and family needs.
If you are interested to signup, please contact Gabby at gabbyrachaelchew@gmail.com