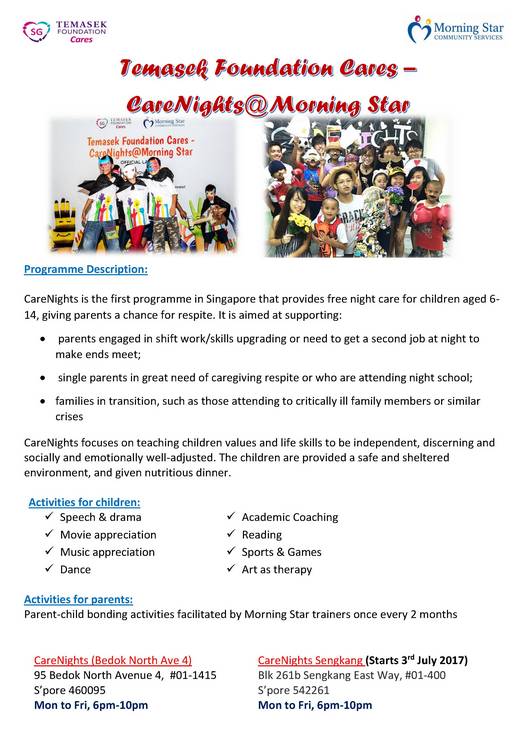 CareNights is the first programme in Singapore that provides free night care for children aged 6-14, giving parents a chance for respite. A pilot programme launched in May 2016, the programme accepts children aged 6-14 years, and runs Monday to Friday from 6pm to 10 pm.
It is aimed at supporting :
– parents engaged in shift work/skills upgrading or need to get a second job at night to make ends meet;
– single parents in great need of caregiving respite or who are attending night school
– families in transition, such as those undergoing divorce, attending to critically ill family members or similar crises
CareNights focuses on teaching children values and life skills to be independent, discerning and socially and emotionally well-adjusted. The children are provided a safe and sheltered environment, and given nutritious dinner.
Volunteer today if you have time to spare or are looking to make a difference in the community, and are:
– At least 17 years old
– Energetic
– Committed and responsible
– Patient & respectful
– Enjoy interacting with kids
– Open to learning
– Have a positive mind-set
How can you help?
– Facilitating skills-based activities (Mentioned above)
– Academic coaching for primary and secondary school subjects (Phonics, Reading, English, Maths, Science, Mother Tongue)
– Block visits to create awareness so that families who require the services of CareNights would benefit from it
Signup as a Volunteer if you are:
– students and adults who can only spend 2 hours a week for 6 or 12 months
– students who would like to volunteer on termly basis (10 weeks)
– groups/teams who can volunteer only during school holidays (3-4 weeks)
– school leavers/young adults/retirees who are willing to meet a need, regardless of time
– students on School Internship Programme
If you need more information, please call 6285 1377 (Jaanani) or email jaanani@morningstar.org.sg