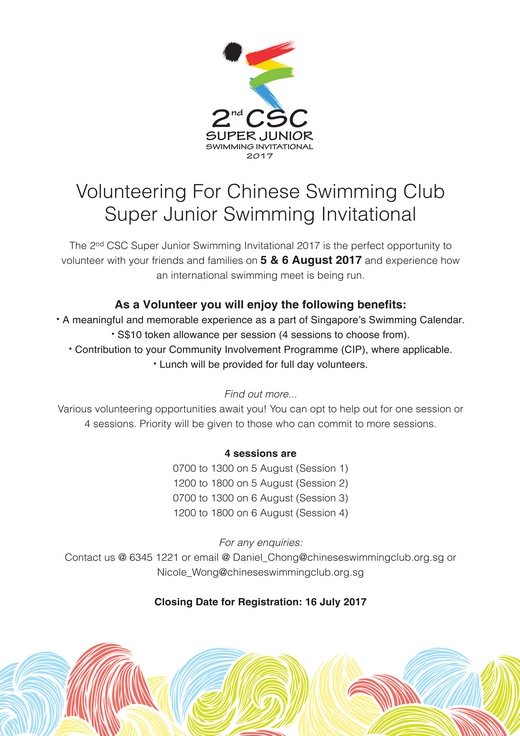 Super Junior Swimming Invitational
The 2nd CSC Super Junior Swimming Invitational 2017 is the perfect opportunity to volunteer with your friends and families on 5 & 6 August 2017 and experience how an international swimming meet is being run.
As a Volunteer you will enjoy the following benefits:
• A meaningful and memorable experience as a part of Singapore's Swimming Calendar.
• S$10 token allowance per session (4 sessions to choose from).
• Contribution to your Community Involvement Programme (CIP), where applicable.
• Lunch will be provided for full day volunteers.
Various volunteering opportunities await you! You can opt to help out for one session or 4 sessions. Priority will be given to those who can commit to more sessions.
4 sessions are
0700 to 1300 on 5 August (Session 1)
1200 to 1800 on 5 August (Session 2)
0700 to 1300 on 6 August (Session 3)
1200 to 1800 on 6 August (Session 4)
For any enquiries:
Contact 6345 1221 or email @ Daniel_Chong@chineseswimmingclub.org.sg or Nicole_Wong@chineseswimmingclub.org.sg
Closing Date for Registration: 16 July 2017