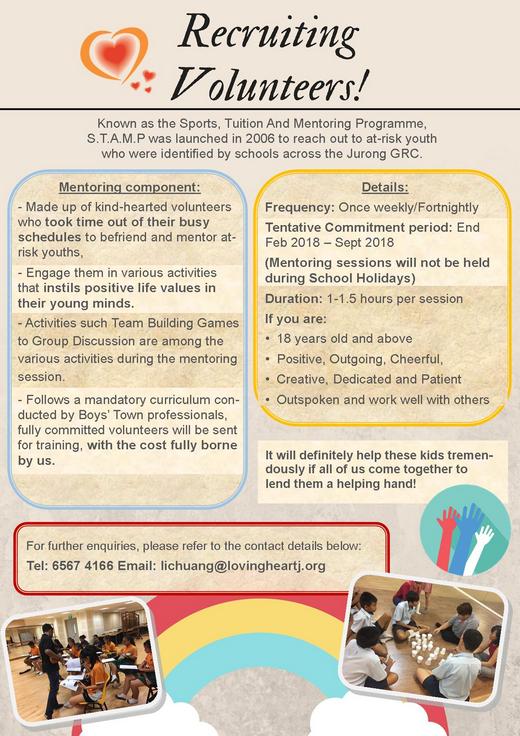 Known as the Sports, Tuition And Mentoring Programme, S.T.A.M.P was launched in 2006 to reach out to at-risk youth who were identified by teachers in the school.
Targeting around 20 students in every school yearly, it aims to deliver a comprehensive programme to aid students' holistic development physically, academically and emotionally through the three different components—Sports, Tuition and Mentoring.
Mentoring component:
The mentoring component is made up of kind-hearted volunteers who took time out of their busy schedules to befriend and mentor these at-risk youths.
Through engaging them in various activities, they aim to instil positive life values in these young minds.
Typical activity during mentoring sessions include ice breaking activities, team building activities, role playing, sharing and discussion. These volunteers go through a mandatory curriculum conducted by Boys' Town professionals and those who are able to commit the full duration will be sent for training, with the cost fully borne.
Details:
Frequency: Once weekly/Fortnightly
Tentative Commitment period: End Feb 2018 – Sept 2018 (Mentoring sessions will not be held during School Holidays)
Duration: 1-1.5 hours per session
It will be good if the mentors could be:
• 18 years old and above
• Positive, Outgoing, Cheerful
• Creative, Dedicated and Patient
• Does not have problems speaking up in groups ( 20 students a session )
• Able to be a team player
If you have any queries or would like to volunteer, please contact 65674166 or lichuang@lovingheartj.org