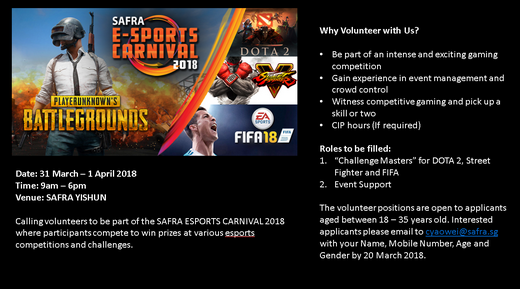 SAFRA ESPORTS CARNIVAL is fun filled event that seeks to engage competitive and casual gamers to congregate at SAFRA for a weekend of esports competition and challenges. The carnival will feature multiple games with prizes to be won.
Date: 31 March 2018 (Sat) – 1 April 2018 (Sun)
Time: 9:00am to 7pm
Venue: SAFRA YISHUN (Atrium)
Requirement: 18 to 35 years old as of 2018
Roles available:
– Packing of goodie bags before the event
– Setting up/ packing up of equipment and logistics
– Registration of participants/ giving out of goodie bags to registered participants during event
– Managing game booths and guide participants through the challenges
Benefits:
– CIP letter if required
– Gain experience on how to managing esports activities and events
– Learn from esports enthusiasts
How to sign up:
Email cyaowei@safra.sg with your Name, NRIC, Contact Number, Gender and Age by 21 March (Wednesday).